Post by PinkFloyd on May 8, 2010 20:27:01 GMT
I measured my source output for DC and it was 0.00mV so decided to remove the 10uF electrolytic Jamicon input coupling caps.
Removing these brings about a noticeable increase in clarity it's as if a breath of fresh air has been let into the amp.... the bass, in particular, has benefitted from the removal of these nasty articles and the presentation is also slightly "larger" now.... amazing how the sound can be improved by just removing two el cheapo capacitors!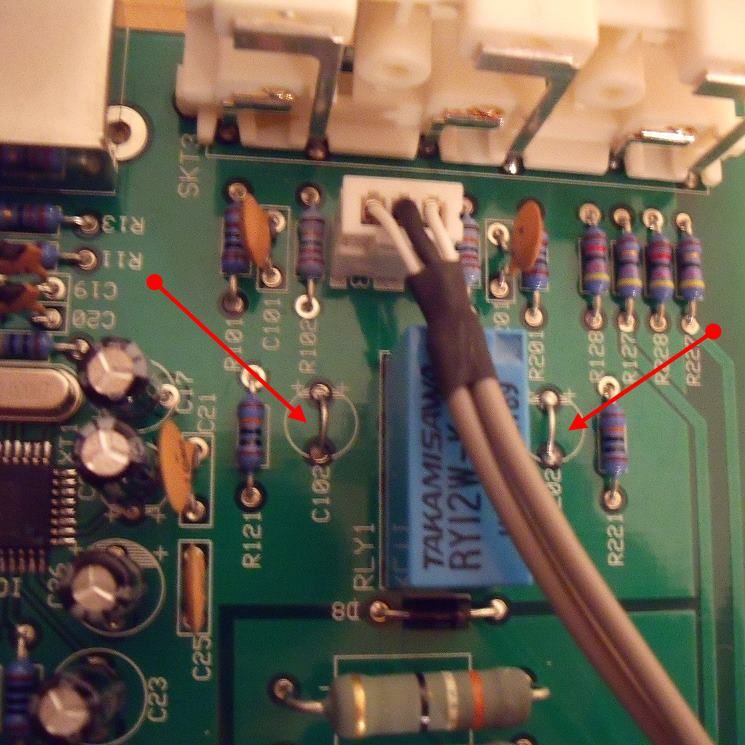 Basically, all you do is remove them and jumper across the pads with a wire link (or zero ohm resistor). Only do this if you are sure there is no DC at your source's output..... most modern CD players are DC free at the output but it's always worth checking:
www.rock-grotto.co.uk/dcoffset.htm
Just probe your CD players output phono sockets, the reading should be 0.00mV.
24 hours into the cooking process the tweaks are already paying off. There is a definite improvement to the scale of the sound, there is more meat on the bones (if you like),
much
better bass response and a lovely 3D like quality to the presentation..... sounds all over the place in your head, vibrant, energetic and extremely detailed and easy to follow each individual component.
This is with stock 500mA PSU and stock valves (ECC88). I'm getting quite excited now as I already
know
what a major improvement the Pinkie / 6H23N makes but I am holding back on employing them in the mix until I am satisfied the amp has been improved dramatically with stock valves / PSU. It's gonna be hard to hold back between mods, I want to do it all
NOW
but realise that is the wrong way to go about it..... do it all at once and you don't know what (if anything) made an improvement (or, even worse, what made it sound bad!)
She is slowly creeping up on the other X-Can amps and I am convinced the V8 can be made to sound the best of them all with widest headstage, best drive, greatest clarity, most "holographic" presentation and most detailed. It will never have the FAT sound of the V1 but will have all the frequencies in proportion and possess that "large" scale , wide, delivery that all
really
good headphone amps display.
Off to do some more listening