Post by PinkFloyd on Oct 14, 2017 20:28:14 GMT
I gave this old girl a full re-cap and a few other tweaks and the results (compared to the sound before the re-cap tweaks) are a night and day improvement. The owner of the Synthesis (Max) has had the amp since new (over 30 years) and he has told me he wouldn't mind sharing his thoughts on the sound quality after the tweaks so I'll leave that up to him.
All of the electrolytic capacitors were replaced with new ones, like for like values, APART from the 6,800uF / 63V power caps which were replaced by 10,000uF / 63V EPCOS types. The 2200uF / 25V power caps were replaced with 3300uF / 35V types.
10,000uF / 63V 105c EPCOS: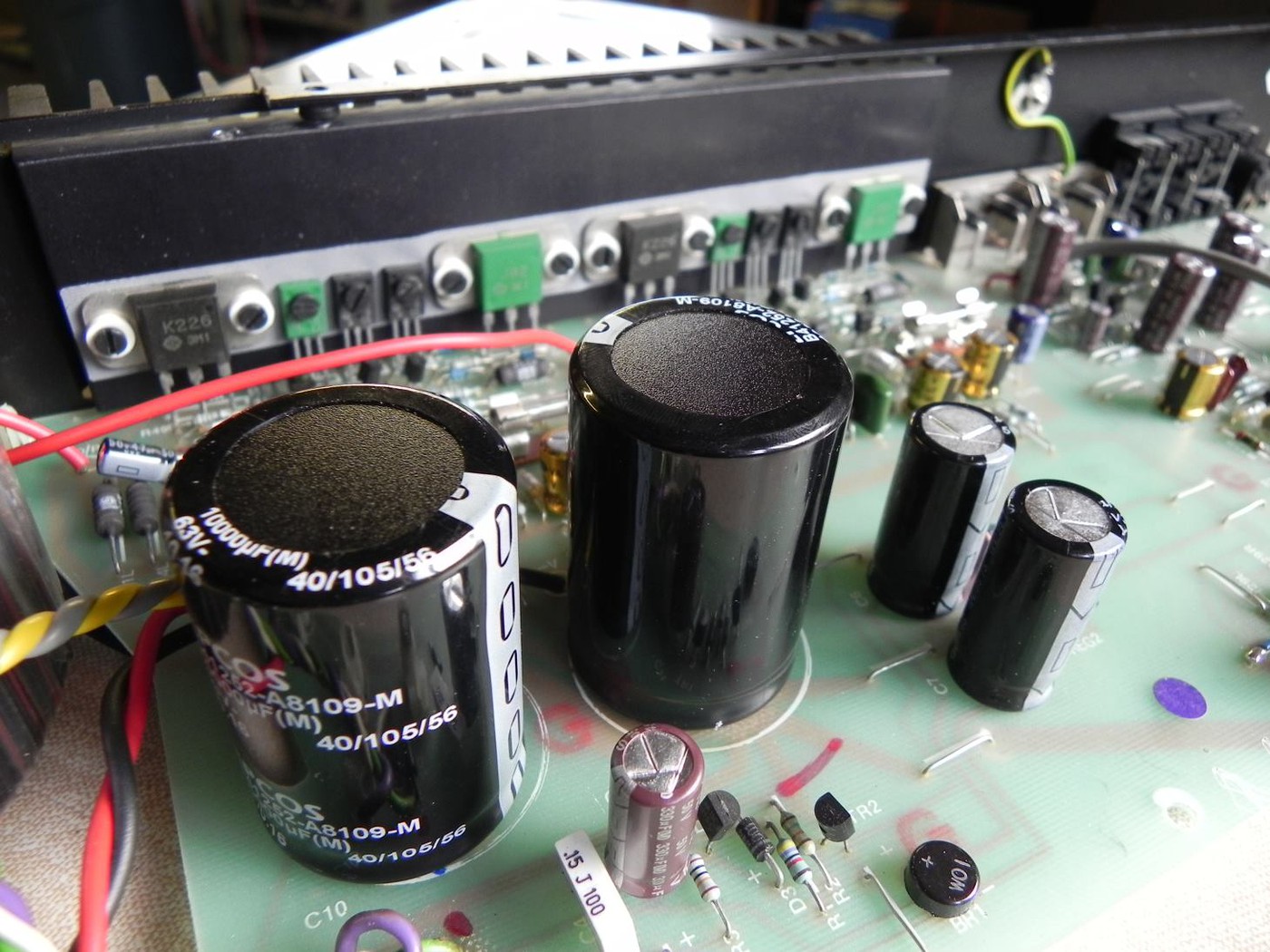 Hosted on Fotki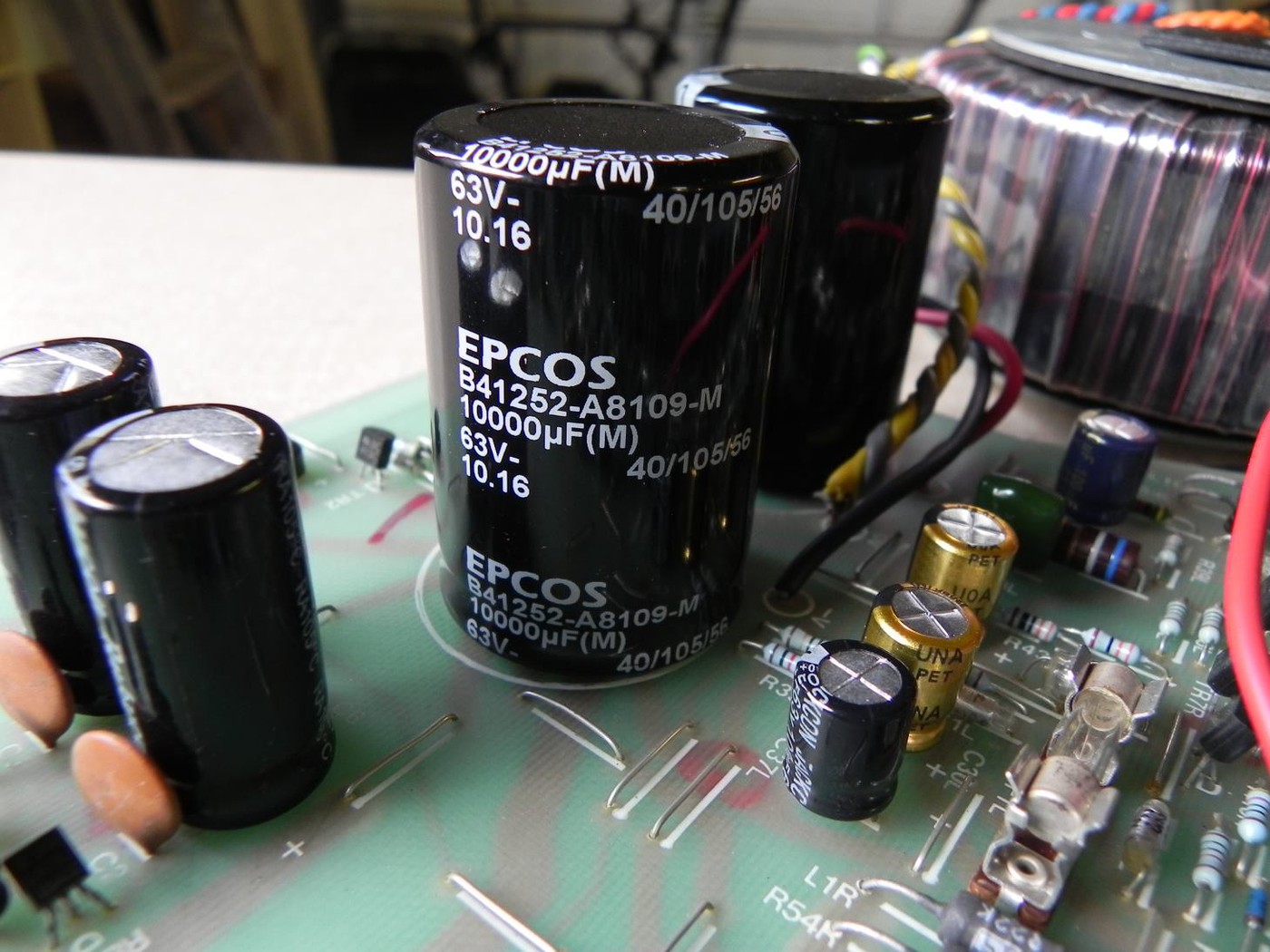 Hosted on Fotki
3300uF / 35V 105c Rubycon: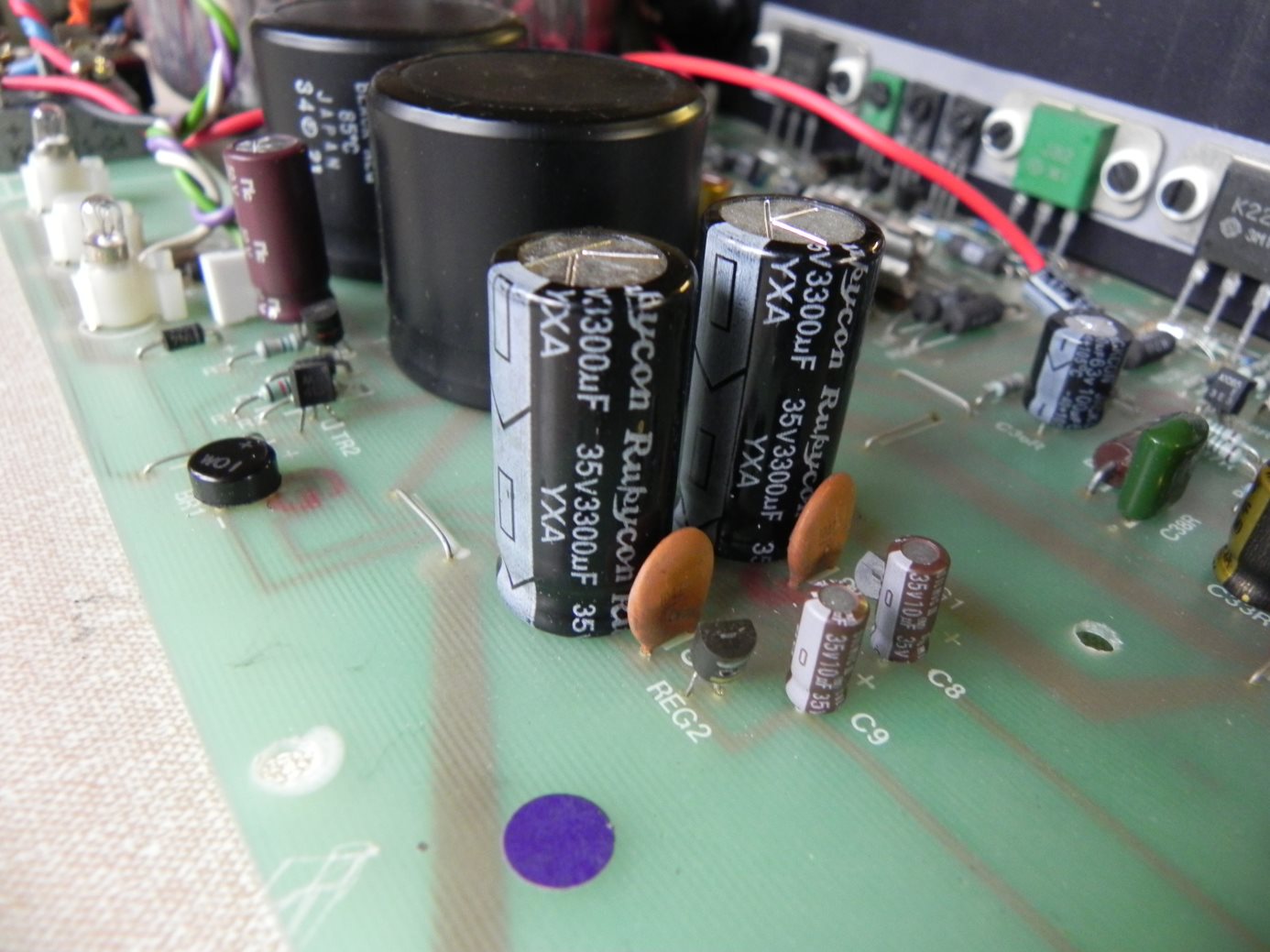 Hosted on Fotki
The rest of the recap was done with
like for like
value caps but decent quality capacitors were employed (ELNA Silmic ll, Panasonic FM etc.)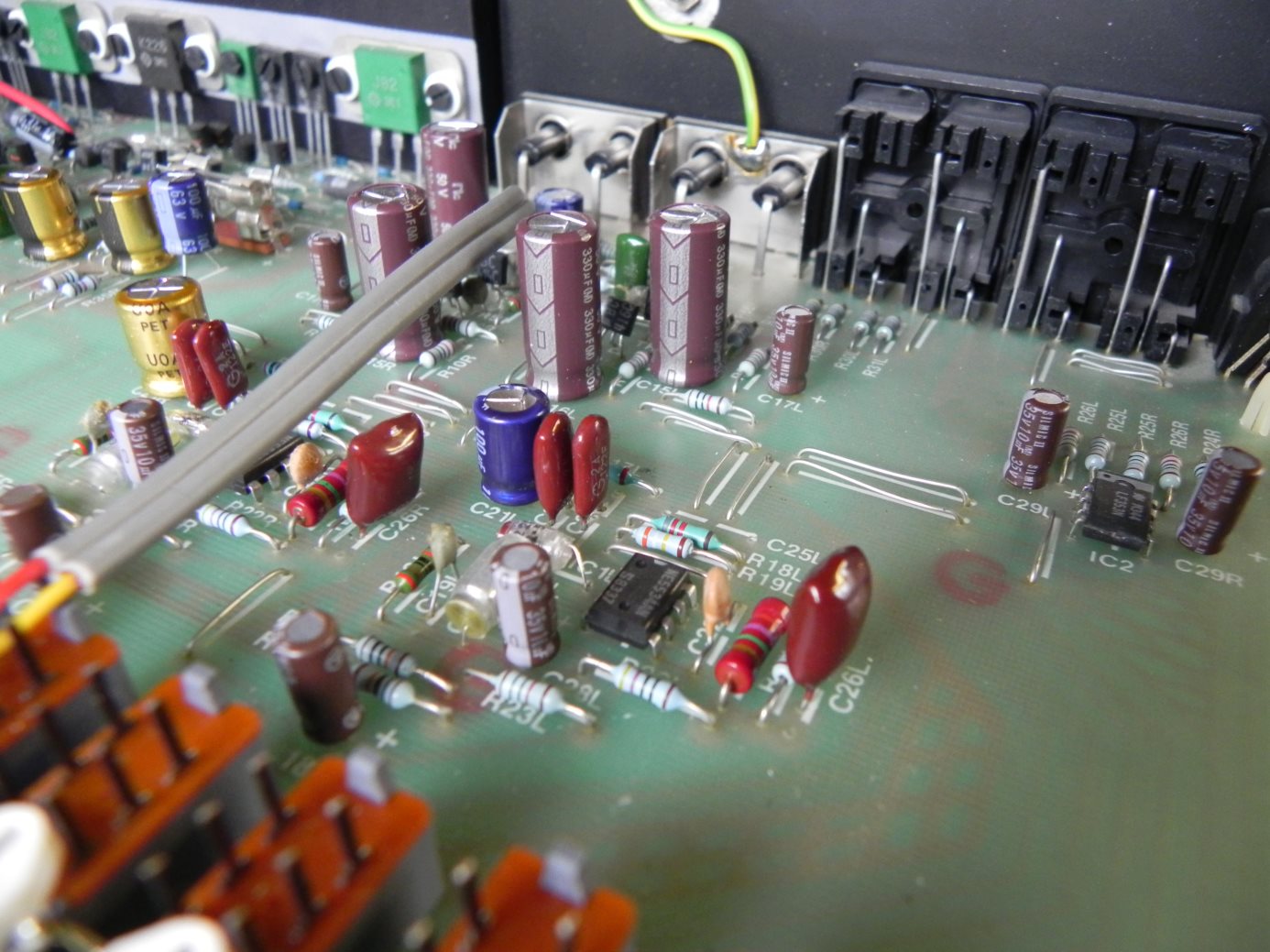 Hosted on Fotki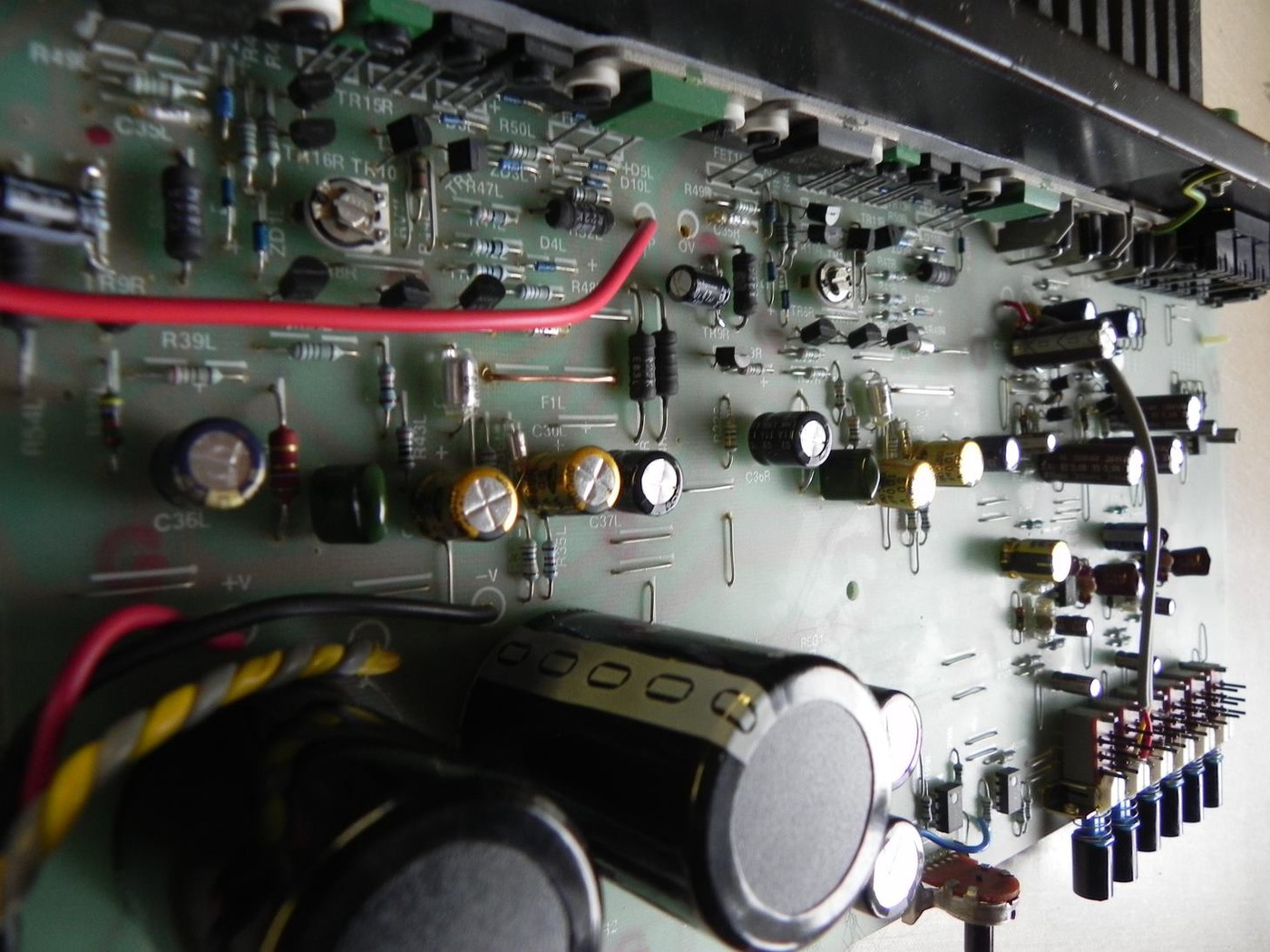 Hosted on Fotki
A big thank you to John Sampson (Musical Fidelity's head service engineer for over thirty years) for helping me out with a few extra tweaks which REALLY reaped sonic dividends!
The first of those being the removal of the speaker fuses, these were official MF updates back in the day.
The existing fuses (there are two of them) are removed and replaced by 16 gauge copper wire, you can see the two culprits here: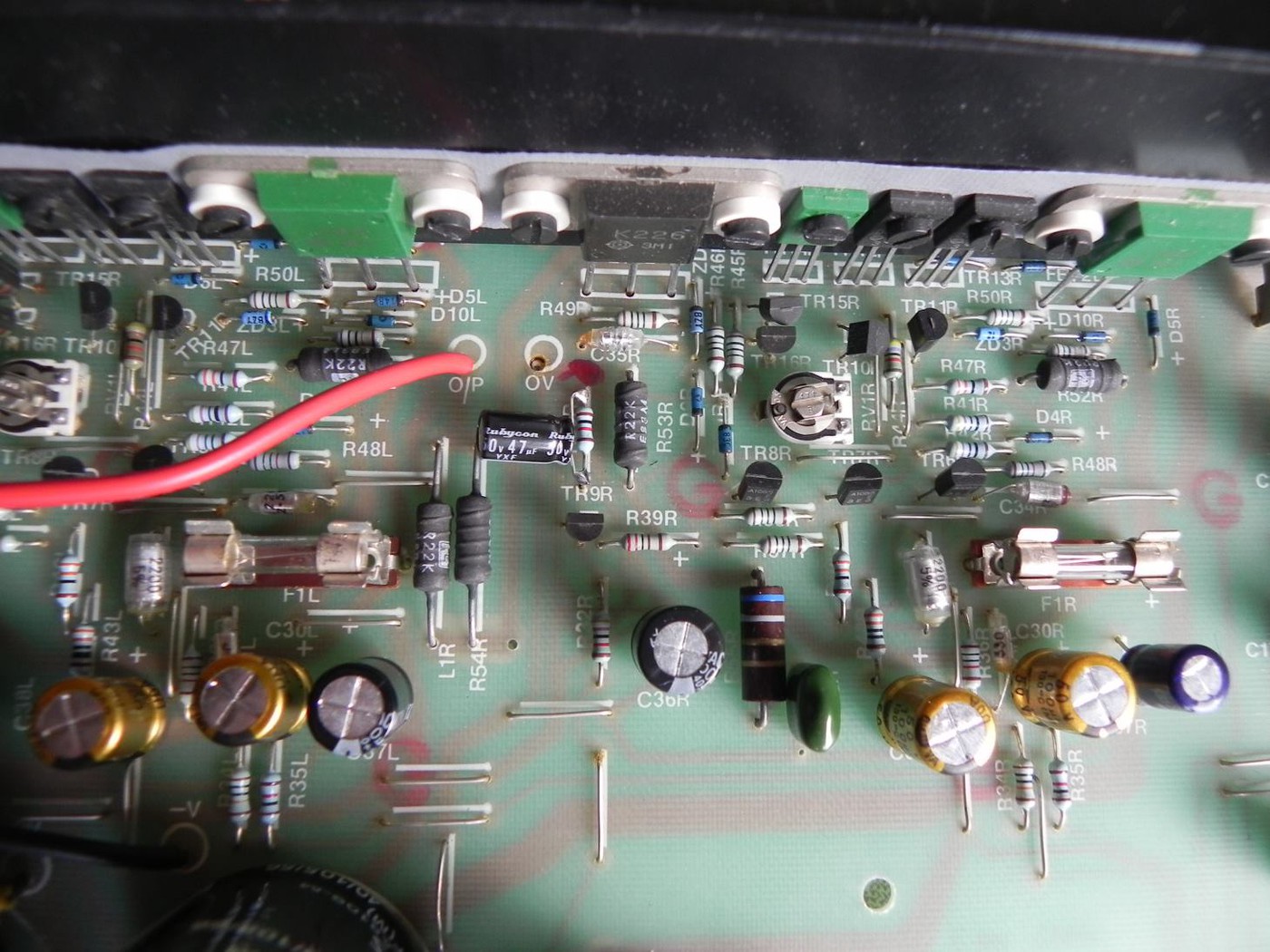 Hosted on Fotki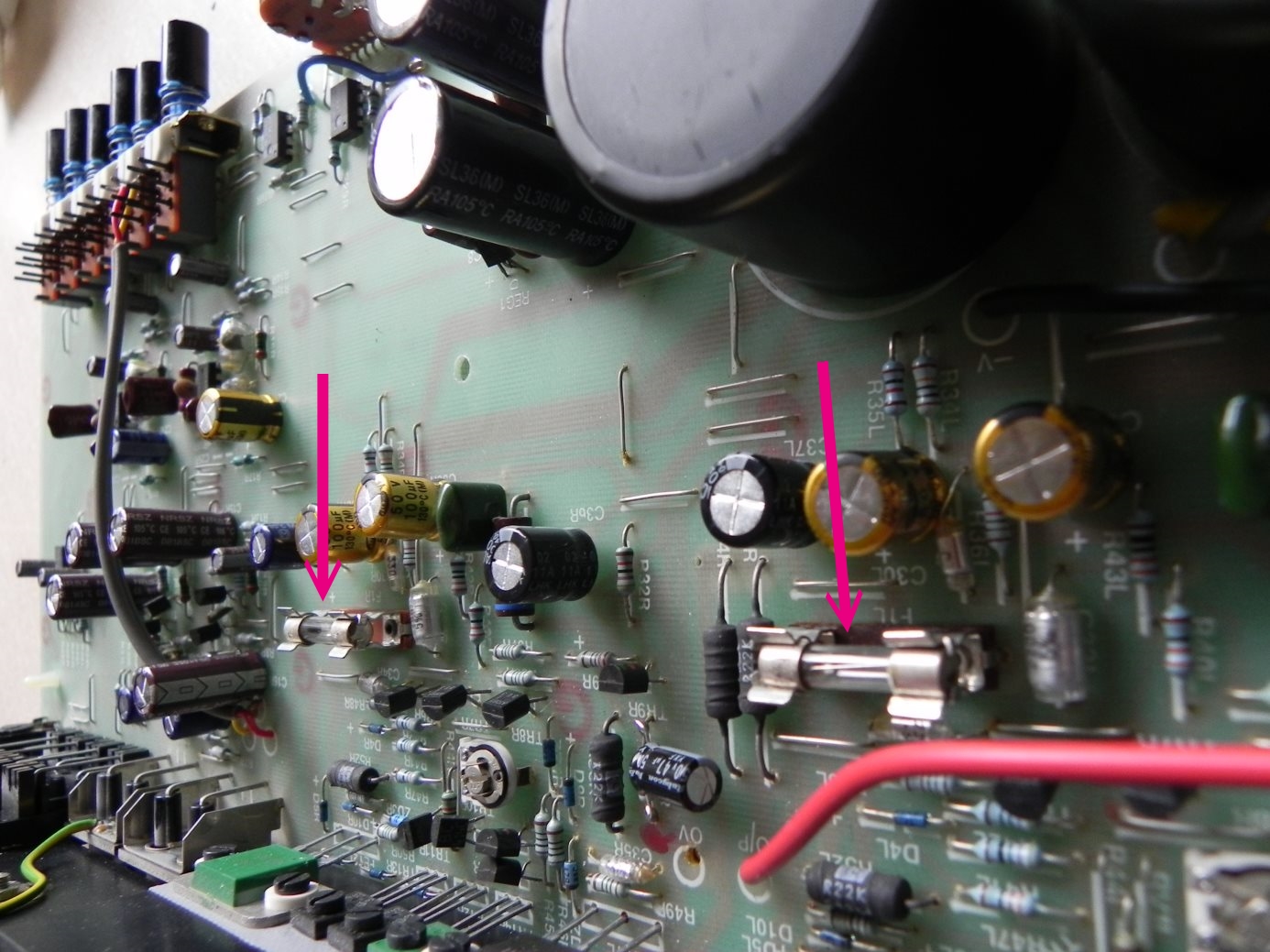 Hosted on Fotki
These were removed and replaced with 16 gauge copper wire links / F1L and F1R: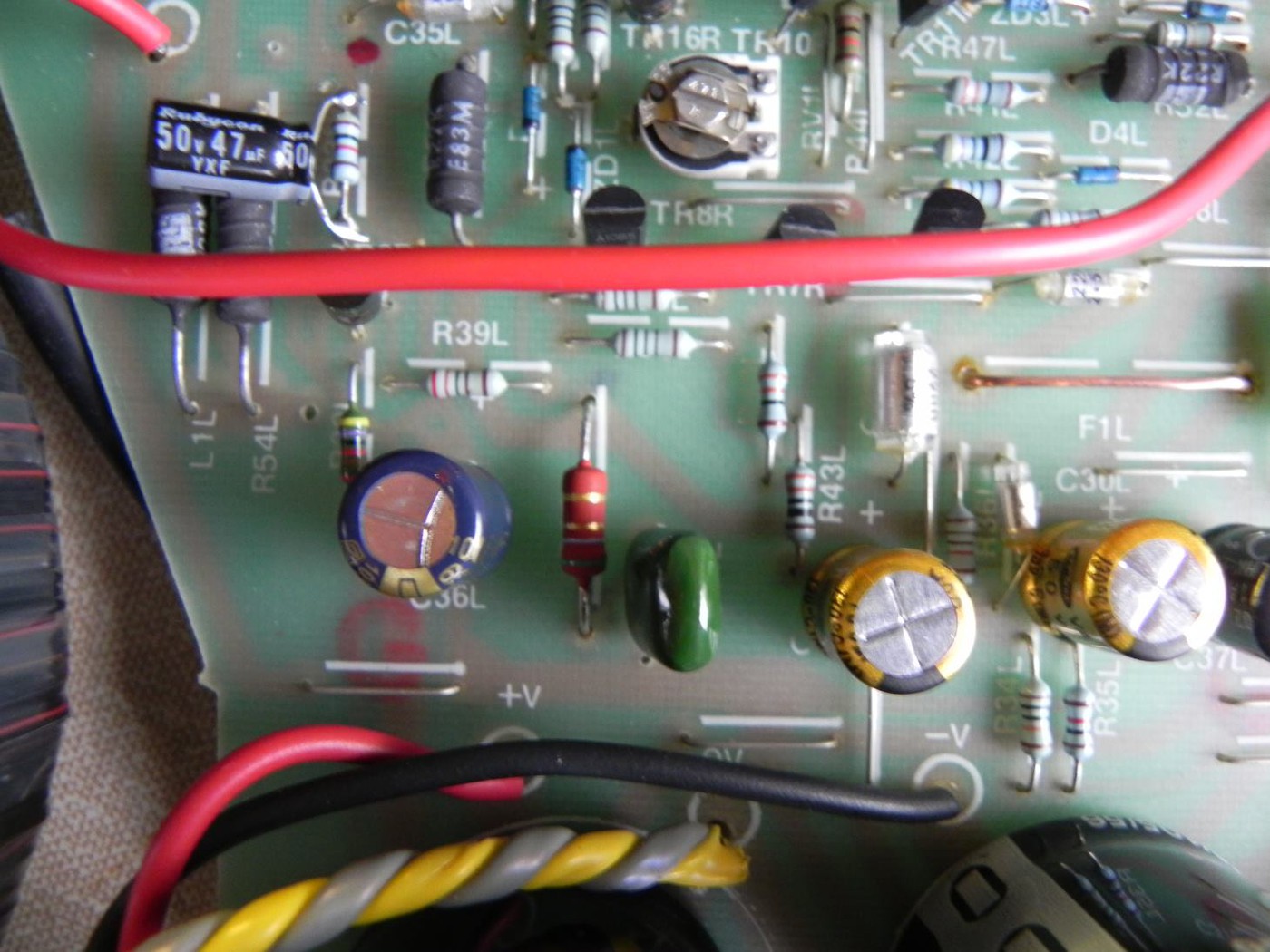 Hosted on Fotki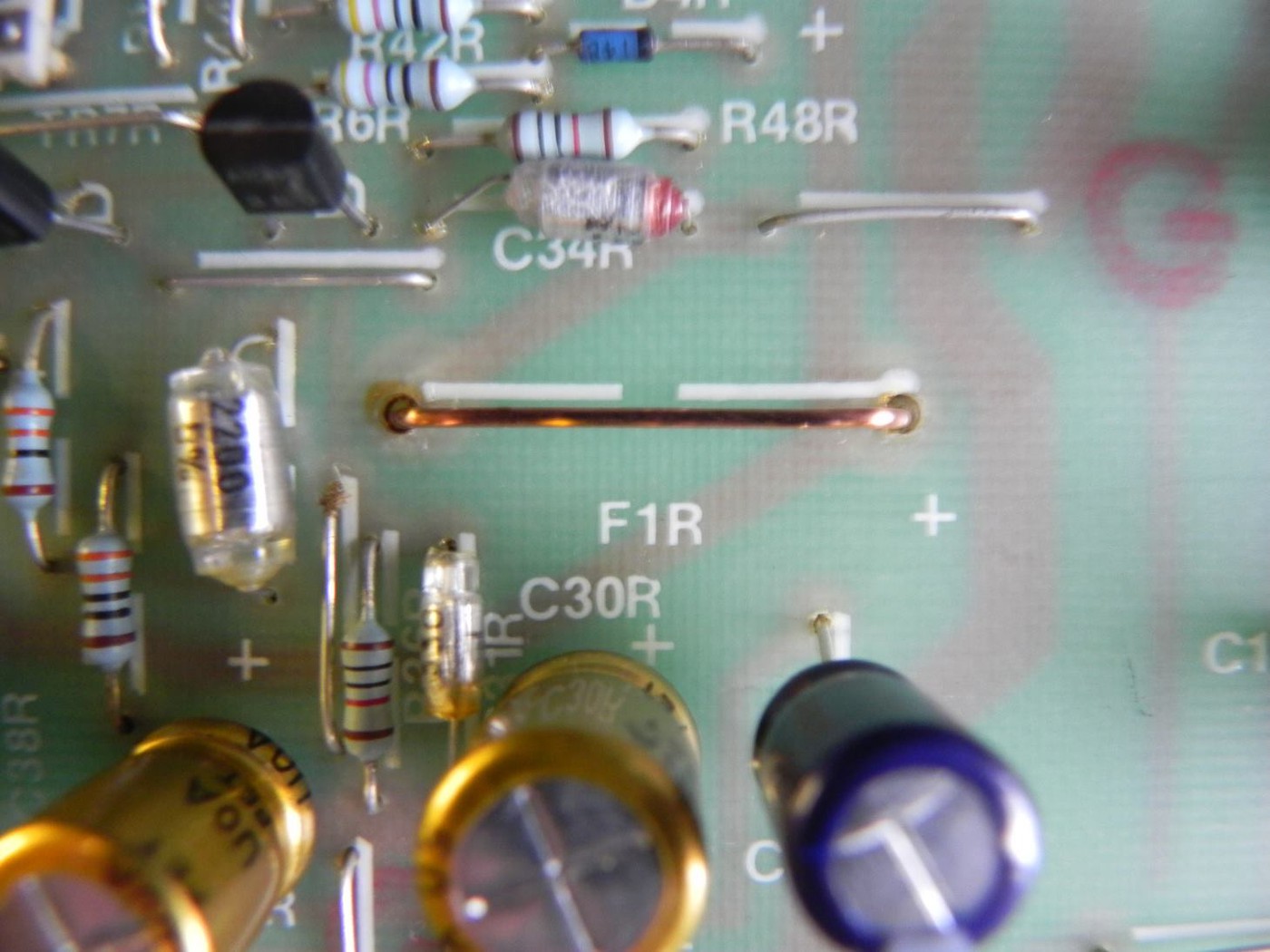 Hosted on Fotki
The second John Sampson tweak was the removal of the 2 x carbon resistors in the Zobel network which could make the output stage become unstable..... these were replaced with 2 watt metal film types / both 5r6 / 5.6ohm values.
This image shows you what's what: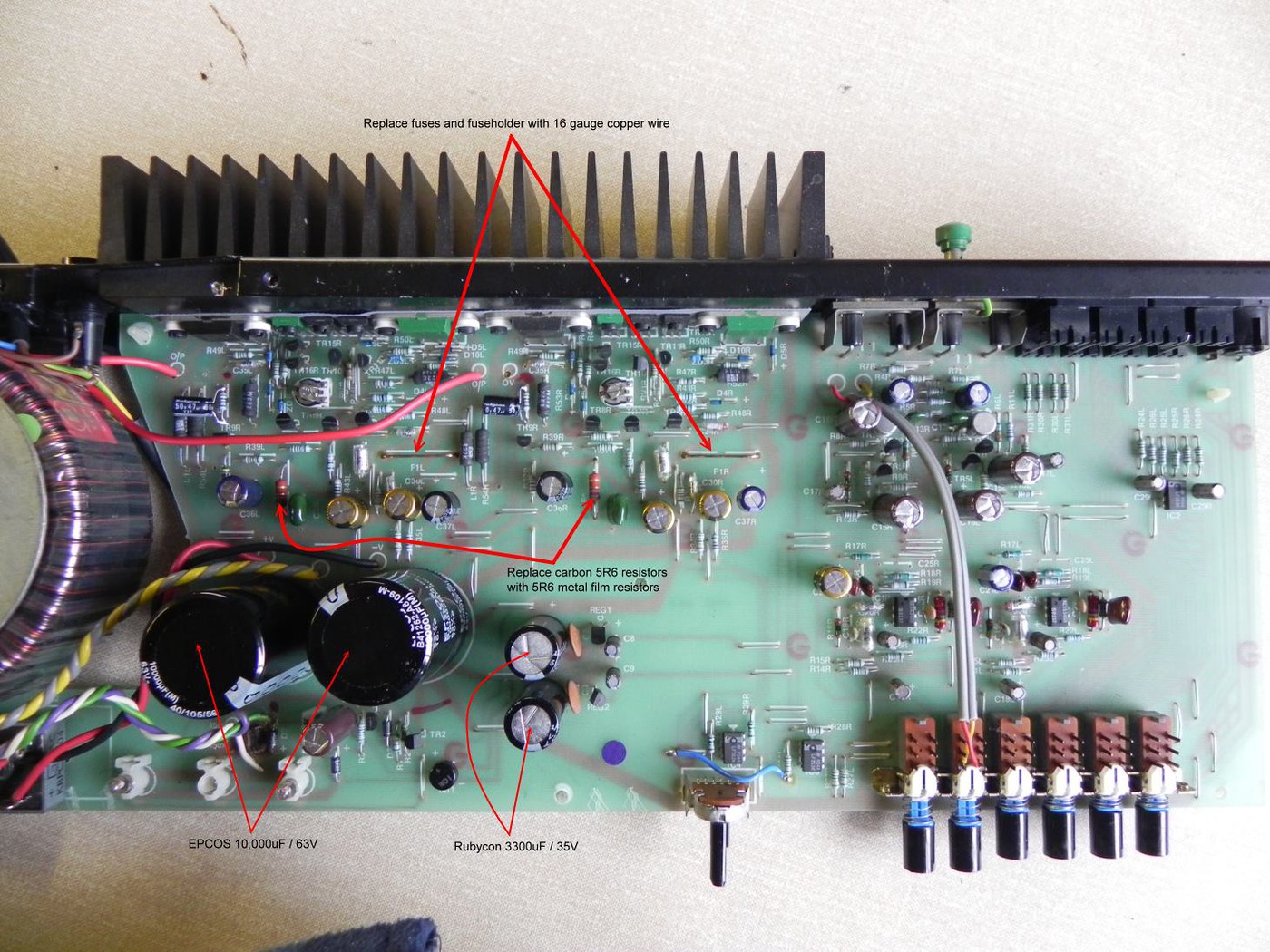 Hosted on Fotki
As I said earlier, all of the other caps were replaced with like for like "good quality types".
To my ears the results of the re-cap were nothing short of stunning. I expected a major improvement just from the recap alone (remember, this amp is over 30 years old and the caps way past their best) but was pretty much blown away when I implemented John Sampson's fuse and carbon resistor removal "tweaks" so, once again, thank you for your input on this one John it is most appreciated and I owe you one

jsaudiorepairs.co.uk/upgrades/
All in all this didn't just save the Synthesis from the bin, it went to
prove
that an old amp can be rejuvinated and blow away many brand new amps.... an amp's an amp after all

I wish we could do the same with the human body, Jesus the arthritis in my left hand is getting bad.... it's getting to the stage I tend not to use it anymore.... a "re-bone" would be the answer but it would appear that "pain management" is the only "fix" the health service offer...... cutting edge stuff that is.... stick a plaster on it and eat a pain killer.
Anyhoo..... I hope that this is of interest / assistance / help to any Musical Fidelity Synthesis amplifier owners and I trust Max will come along with a review of the sound quality.
Mike.