Post by madmac on Oct 8, 2013 20:24:57 GMT
Hi, I'm new here and I'd like to post some
personal
reviews on the headphones I own(ed).
These are the ones I own or owned:
Pioneer SE650, bought in '86 or '87 (sold)
Sony MDR CD570, bought in '94
Beyerdynamic DT 770 pro, bought in '13 (sold)
Superlux HD681 B, bought in '13
AKG K271 Studio, probably from 2004, bought used in '13
Somic MH489, bought in '13
Pioneer SE650
(Has been sold a few months back)
Specs:
Closed headphones
Driver: Dome type, size not mentioned
Impedance: 22 ohms
Freq response: 20hz till 20Khz
Sensitivity 103 db/Wm 1 Khz
Weight 245 grams (without cord)
I got these headphones as a chrismas gift from my brother in law, I guess it was '86 or '87. I acually asked for cheap headphones but my brother in law didn't like those and bought me these Pioneers instead. Which turned out to be a good thing cause these were fine headphones back then. During an internet search I even discovered they are listed under "Pioneer vintage headphones".
Can't find the specs online but hey, there even was no internet back then !
Closed headphones is all I know.
Build quality:
Seems they were well made, considering their age and the abuse they took. The headband adjustment still works fine, left volume control is also fine but the right only turns 20% of it's capebility, going from max till little less. Doesn't really matter anyway cause I never used the volume dials.
The earpads are only mildly damaged, but they did get thinner through the years. They don't seem to be replaceable because they're glued on. The cord is connected at both cups and still the original, only the jack has been changed.
Sound:
Of course I though they were amazing back then, I had no comparisment. Just for the fun of it I listened to them again to write this review and what do I hear ?
Total lack of bass.
Very recessed highs.
Because of the above, very pronounced, but not aggresive, mids.
Soundstage is kind of narrow with limited stereo imaging. I guess the recessed treble has a lot to do with this.
Not so good acually

Comfort:
So that does make it headphones on which one could listen to music for houres without getting mentally drained. But it remains to be seen if the thin earpads allow one to wear it for houres cause the inside of the cups touch your ears and start to press down on them after only 10 minutes or so. Becomes painfull.
Conclusion:
Obsolete in performance but ahead on durability.
Sony MDR CD570
This one has a small story attached to it... I guess it was '94 when I was in a recording studio to record the first demo of our band back then. In the control room they had these Sony headphones for mix check-ups, it was a Sony MDR 750. Back home I said to my wife: "I want one of those !" So, to surprise me, she went to a store to buy me the MDR750. But the salesman claimed it was out of production and sold her these MDR CD570 as being the follow-up... yeah right


Specs:
Closed headphones.
40 mm neodymium driver
40 ohm impedance
Frequency respons 10hz - 25khz (Sony specs)
Build quality:
Well, these headphones have been through a lot and haven't been treated nicely over the last 10 years. It had bad quality earpads that got disintegrated till the point the vinyl left black dandroft around the ears and the inner seem torned open, leaving the foam exposed. Looked awfull and sounded bad too. I searched the net for days looking for replacement earpads, but these are nowhere to be found.
But besides the poor earpads overall build quality is very well. The automatic headband adjustment still does it's job and it has it's original cord and plug.
Sound:
I still remember how impressed I was with the sound quality of these, even compered with the MDR750, which were called studio reference headphones. But others didn't share my opinion on the MDR CD570's SQ and simple said it sounded "weird". It took me a long time to explain that "weird sound" to myself so here it is explained:
These MDR CD570 got very bright highs, deep (but recessed and soft) bass and articulated mids. Bass has completely no punch. SQ is easy to listen to, has no real peaks, but cannot be named balanced because of the lack of mid bass (freq around 100 hz till 500 hz). But it does have a good stereo image and soundstage.
Comfort:
These have always provided great comfort, even with the disintegrated earpads. They didn't have strong clamping force, didn't squeeze your head. Could wear them for houres with minimal discomfort.
Conclusion:
Would my wife had bought the MDR750, I would now have a legend in my possesion. Instead I now have these "designer-like" headphones that look a bit ahead of their time. Is still used a lot by my daughter. I accidently found replacement earpads for these. I've got AKG K271's on which I changed the stock earpads with verlours ones. Seemed that the stock AKG pads could be used on the Sony MDR CD570 simply by pulling them over the cups instead of cramping them into the slot.
Sound quality improved a lot with the AKG earpads and comfort went up two notches.
Beyerdynamic DT 770 pro 80 ohm
(Sold after I bought the AKG K271 Studio)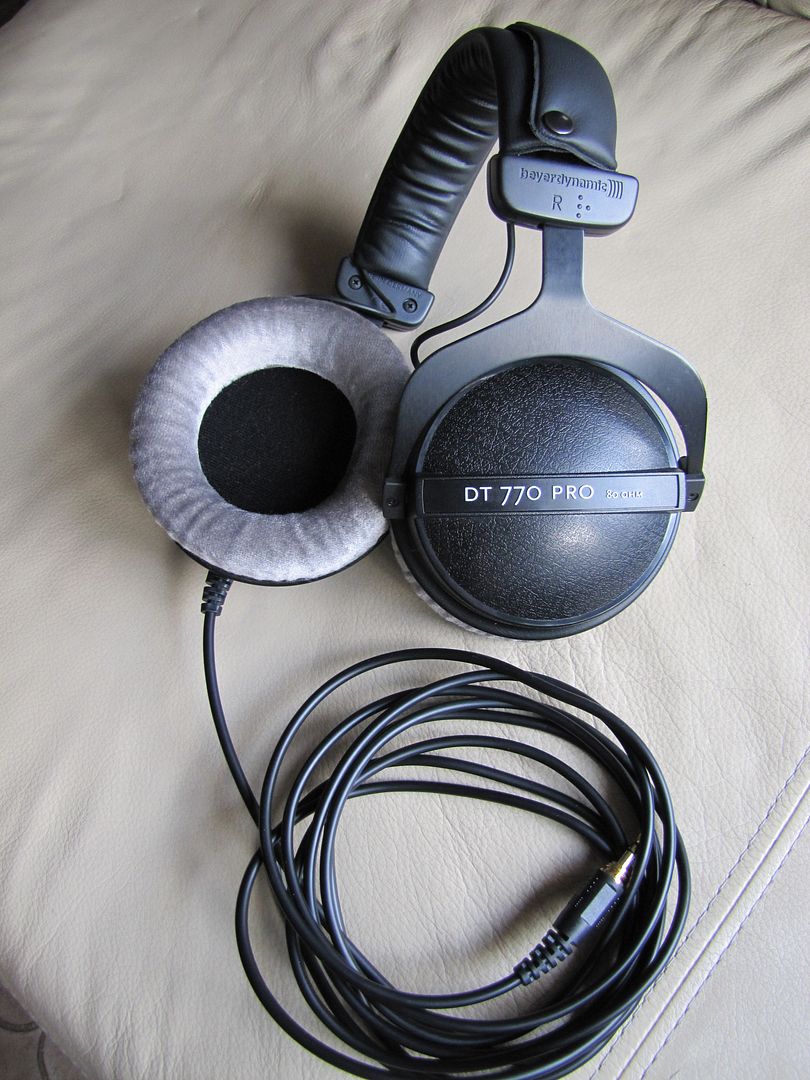 Because I was in the middle of DIY recordings, with my current band, and I did 90% of the editing in my truck, I decided to buy the best headphone available for studio reference known to me at that point. With a budget of €150 it was the most expensive pair ever for me. These DT 770 came up on top of the list. I chose the 80 ohm version cause it give me some better volume directly out of my Macbook's headphones output.
Specifications:
Closed headphones.
Driver size not mentioned.
80 ohm
Freq respons 5 hz - 35 khz
Build quality:
Didn't own them long, but I could just tell these were build to last. Sturdy, robust cups, quality materials. It's also ment to last: washable earpads, removeable and changeable headband pad. Cord is connected at the left cup en overall build is very decent. Wouldn't expect less at this price. I thinkthese would survive an earthquake of a war.
Sound:
My first impression was: balanced ! Everything was audible in a subtil way, these were no frequenties over the top. Really worth every cent... best set of headphones I'd ever heard. Strong bass, sufficient mids and highs without ever being fatigueing. This was where the price came to mind. You get what you pay for.
But after a while I noticed the recessed mids, they were there, but far away. This created some sort of a problem while I was mixing the metaltrack of my band. Because of the recessed mids, I mixed the guitars in loo loud. So it seemed it wasn 't the "reference" I thought it to be...
Allthough I still think it has a fantastic SQ.
Comfort:
Real velvet earpads, though they are silver colored, which looks somewhat odd. Olsd school adjustement system, deep cups so my ears have more than enough room without touching anywhere. Clamping is just like it should be, extreme great wear comfort !
Conclusion:
Real bang-for-the-buck headphones, uncompromised and build to last. Balanced sound with slightly recessed mids. Still worth the money in my book. So why did I sell it ? Read on and you'll get the aswer to that.
Superlux HD681 B
After I bought the DT770 I though it would be fun to have a cheapo at the side, just for fun. On a Dutch forum for bassguitar players these HD681 are the most praised budget HP ever. So I bought hem. And meanwhile ordered the AKG velours pads with them.
Specifications:
Semi-open headphones.
50 mm drivers
32 ohm
Freq respons 10 hz - 30 khz
Build quality:
So it's a Taiwanese AKG K240 copy, but completly made of cheap plastic. But they do feel solide and seem to be decent build. The automatic headband adjustment does what it's supposed to do. The cord is single sided connected at the left cup. The stock earpads seem fine to me too, okay they are sweaty, but all fake leather pads are.
Sound:
Okay, one word: disapointment ! Couldn't grasp why these where praised as they were... verdict:
Bass: okay, decent useable bass respons.
Mids: too much, in your face mids.
Highs: harsh, ear piercing, annoying highs.
Not good at all !!
Then I found the filter mod Frans came up with and I asked an electronic freak to make the filters and put them in the HD681B Of course I never though about the fact that the filter was created for use in the version without B. But nevertheless it made a huge difference !
After the filter mod:
Bass: a litlle less then before, but sufficient.
Mids: clear mids, useable and musical mids.
Highs: what a metamorphosis ! Nice balanced highs, clear but not harsh at all !
Great mod ! Thank you Frans !!
Suddenly the B really stood for Balanced !
Comfort:
Here we have a flaw with these Superlux: clamping force is way too high. It squeezed my head in an uncomfortabel way. Since I bought the velvet AKG earpads I imagined they would make a lot of difference but it didn't. It was simply impossibel to wear them for a long time. Then I pulled them over a box and left them there for days. Afterwards the clamping force lessened and this issue was solved.
Conclusion:
Before the mod these are good headphones for their price, but the harsh high get on your nerves. After the mod they're different headphones, worth at least four times the price. The thing is that the filter, which is supposed for the HD681, works fine in these too. At the moment these are the most balanced headphones I own !
This is it for now, been writing for two houres now and I'm getting tired. Almost bedtime. The two remaining sets will follow shortly