Post by PinkFloyd on Aug 31, 2013 19:22:55 GMT
I got this direct from Acoustic Energy a couple of years ago for the knockdown price of £150 because it had a "mark" on the wooden veneer...... the mark actually looks like part of the wood grain so quite a bargain @ £150 shipped

I have seldom used it but today decided to put it to work in the workshop, as it does bugger all in the house!
I stripped it down for a look and must say it's a damned well built subwoofer....... Proper power supply, huge transformer and 80V / 10,000uF power caps so their claims of a genuine 200w RMS are not far out: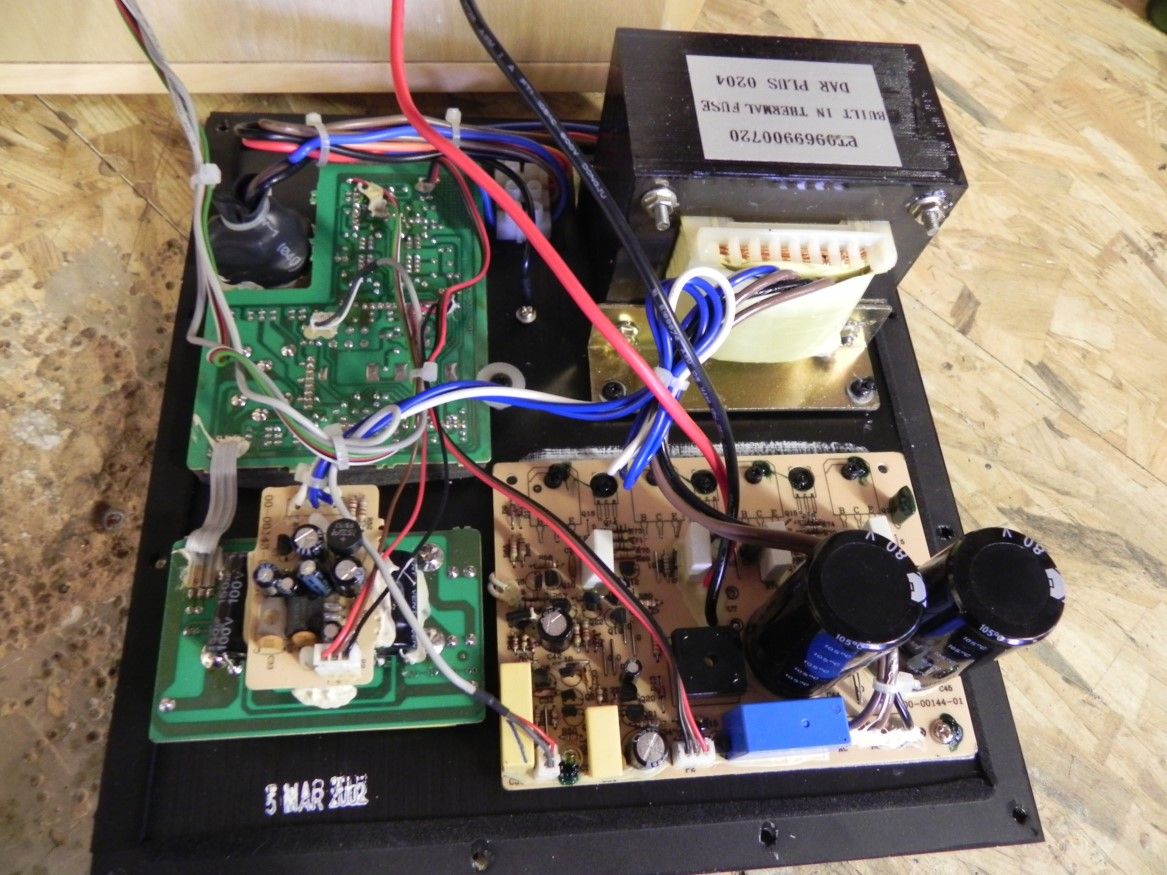 There are a few more components "under" the boards but I couldn't be arsed stripping the boards down to take photos.
The inside of the cabinet is braced and very sturdy / well put together.
Whilst I was under the hood I decided to add strips of flash band (http://www.bostik.co.uk/construction/product/evo-stik/Flashband/413), some reticulated foam and a few blobs of butyl rubber (
www.twistfix.co.uk/waterproofing-tape?uilang=1&gclid=CNm8-t2pqLkCFRMctAodATwAOg
) between some of the components to add extra damping..... the pics are shite: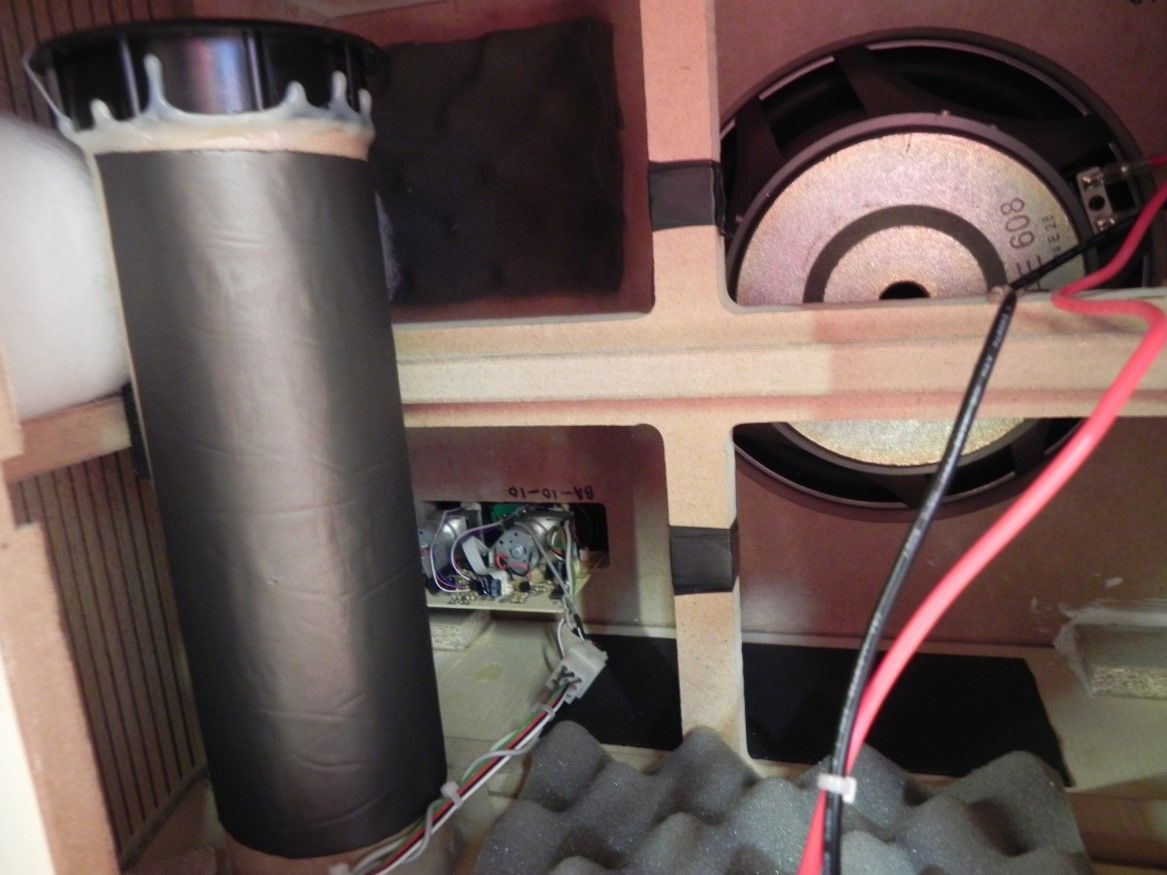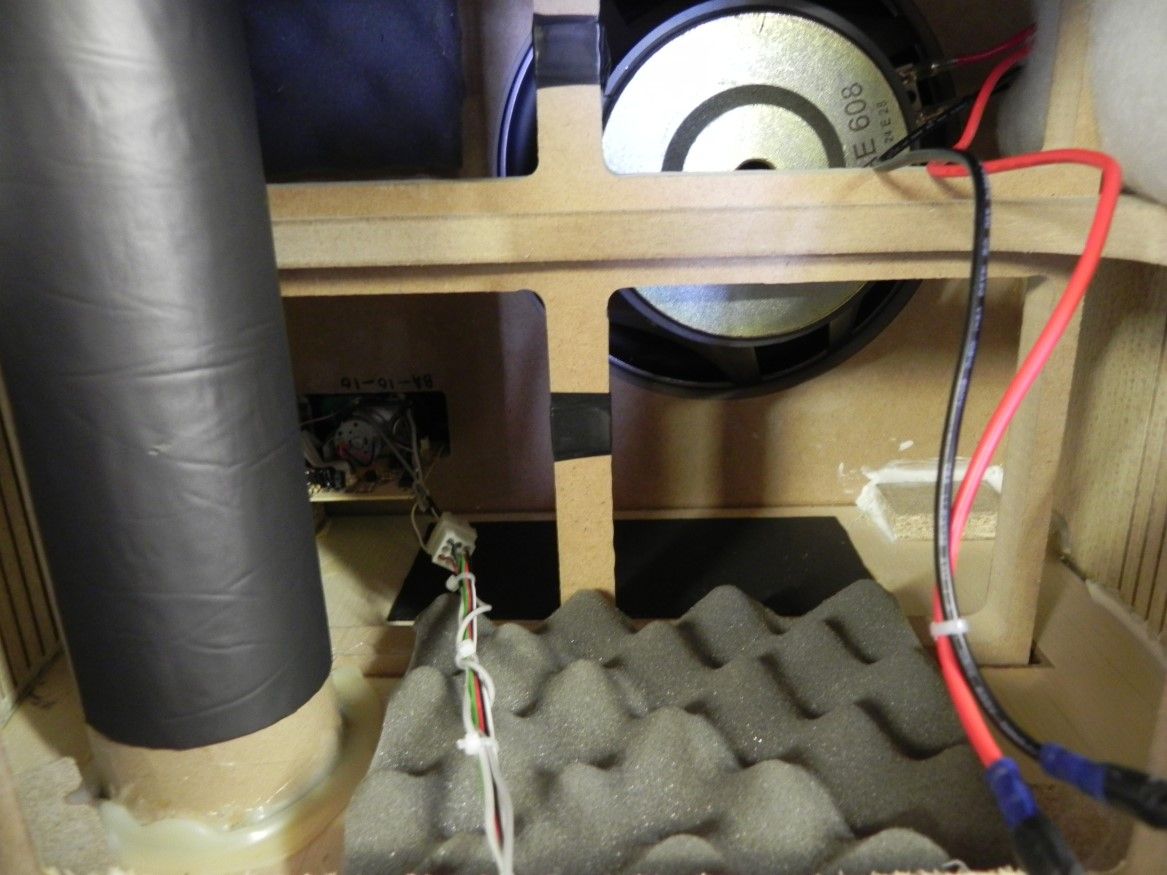 Anyhoo...... put her into her new position in the workshop and "WHOAH!" what an improvement over my old workhorse AE sub..... so much more subtle, blends in seamlessly with either the Wharfedale Diamond 9.1 or my home made (purpose made for workshop) speakers...... I'm feeding it from the sub out on a Yamaha AS-500 amp...... for general radio two listening I switch to "B" (which are the diamonds) but when I feel like blowing the cobwebs out of the workshop I switch over to "A" for a real "concert level" type listen

I'm contemplating reinstalling the NAD C326BEE amp back into the workshop rig as it has TWO sub outputs so I can run the Aelite and the old AE Aegis subs together (
www.superfi.co.uk/p-3135-acoustic-energy-aegis-neo-v2-subwoofer.aspx?utm_campaign=froogle&utm_medium=organic&utm_source=froogle&gclid=COir-f6rqLkCFTPItAod434A3Q
) That should give some "arse" kicking bass supplementation with the two of them running together

Not too keen on the Yamaha AS-500, I find it a bit lightweight "all round" and really do wonder what all the rave reviews are about.... the old NAD C326BEE has been in servive out in the workshop, in all weathers, and always had a pleasing, punchy sound..... never once had to resort to "soft clipping" either...... my problem (and it IS a problem) is that I have way too many amps that I don't use and the only place that I actually listen to loudspeakers is out in the workshop so I'm in the process of chopping and changing at the moment with my reasoning being, "well, I may as well use them, no point them sitting indoors in a box"...... I'd sell the lot of them but don't like sending heavy goods through the post (that's my excuse and I'm sticking to it!)
My Roksan Kandy is staying indoors, I may rig it up for a listen. My vintage Sonab R4000 receiver is going on ebay at the soonest possible point. My NAD 3020 is going nowhere..... my old Tom Evans Pioneer A400 is also staying in it's box.
Quite funny how my loudspeaker listening has evolved from the perfect triangle setup in a dedicated listening room to a string and sellotape (orange lawnmower mains cable and "what comes in the box" type interconnects) type setup in a concrete converted garage...... thing is, the garage is solid concrete, floors, walls with a very high V shaped roof...... the pleasure I get from listening in there is far more than any "dedicated" listening room I have ever set up..... that's always been the case though, hasn't it? the equipment is 20% of the setup.... the listening room 70% and the listener (conditioned to be in the right frame of mind to zone in) 10%........
I must take a photo of the workshop system (in good light) and 99% of you guys will be saying "he's having a giraffe!" but come and have a listen and I guarantee you'll shit your pants with excitement within the first 30 seconds of any given track!
Anyhoo...... sorry for veering off topic there..... just wanted to say that if you're on the lookout for a supplementary bass unit, and can find one cheap, the Acoustic Energy Aelite isn't at all half bad.
My next project is building a motorised bicycle (ie: a standard bicycle but with a two stroke 50cc motor fitted) but after that I am looking toward building a pair of horn loaded speakers..... now that I have stopped drinking "alcohol" I want to do everything..... fascinating how alcohol totally subdues your creative side.
Tomorrow is car day, oil filter change, oil change, new plugs, wheels off..... full service actually

Mike.