Post by PinkFloyd on Apr 1, 2017 20:24:56 GMT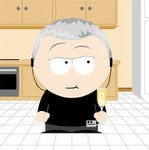 Chris..... the flat pads seemed to make matters worse (to my ears anyhow) and I tried the lot (bowls / Senn HD414 etc / comfy) and found the Senn HD414 pads to be the best BUT, the best of a bad lot. I think the main problem with the 325 is the metal cups / the sheer weight of the things..... they are not comfy on the ears...... could be better described as "ear clamps" rather than headphones.
They are, quite frankly, NOT good sounding headphones and no amount of tweaking will turn a Pig's ear into a silk purse...... they are "glued" together and getting into them is a bitch..... the thing is, when you eventually get past the glue barrier and manage to get into them what do you do?
In my case I looked at the innards and thought "no wonder they glued this crap together!" Stoneage / prosaic build quality with an absolute crap / dated diaphragm (compared to modern ones). I'm surprised Grado are still in business, the only thing they have going for them is the "Built in the USA" thing but is that necessarily a good thing? Their headphones pretty much all use the same type of diaphragm, the only difference being the purity of copper, and they are the same diaphragms they have been using for
decades
.
There is ZERO R&D at Grado..... they are basically selling the same drivers they have been producing for yonks in an assortment of enclosures...... that's OK for a US made Zippo lighter (for example) a lighter is a lighter but headphone drivers have come a long way and Grado drivers have remained the same... the same tooling, the same recipe, the
same old
over the decades.
The Grado sound is like Marmite...... you either love it or loathe it..... I, for one, would
love
to love it but that's not going to be possible unless they start investing in the future / not relying on the past. Their current range is pretty much based around the drivers they developed 80 years ago.