Post by elysion on May 31, 2010 17:32:57 GMT
Oops, I did it again: I've bought the Behringer F-Control FCA202 FireWire interface today.
www.behringer.de/EN/Products/FCA202.aspx
I can't say much about the sound quality since I've had it plugged in to my Mac only a couple of minutes.
But one thing is already sure: Sound quality is better than with the UCA222 overall. It has more resolution (it's a 24-bit/96KHz FireWire interface). I'm rather sure it has also some of the sweetness that the UCA222 offers together with the Neco Mosfet V.2. I have to put the pot of the Mosfet (my first unit with log pot) a little above 10:00 for comfortable long time listening. It's slightly more than what is needed with the UCA222 USB interface (about 9:00 there). Maybe the FCA202 isn't so totally soft as the UCA222, maybe this is a drawback of the higher resolution.
The FCA202 can be powered entirely by FireWire bus power, but it has also an external PSU which is used primarily when the interface is used with a 4-pin FW400 port (which delivers no power at all). I'm using it with the FW800 port of my MacMini through a FW800-to-FW400 cable (bus-powered).
Installation on the Mac is totally easy. This FireWire interface works with the built-in OSX drivers. Just plug it it and select it as input/output audio device in OSX System Preferences. Sample-/bit-rate settings are made as usual in the Audio-MIDI-Setup.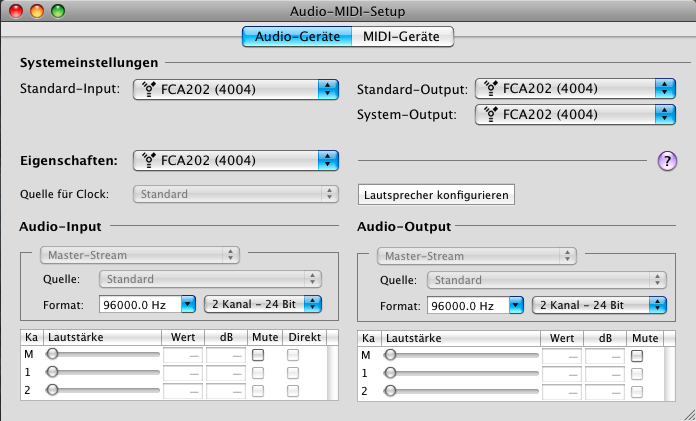 The FCA202 costs about three times the price of an UCA222. Still a great bargain and I hope that my search for a rather good DAC for comfortable long play listening is over.
I'll comment more about the sound quality in the next few days/weeks. I have acquired a lot of new toys in the last few days (for example another Mosfet V.2 and a Neco Portable, both with linear pot). Today is the last day of my holidays and I'll simply need a couple of days/weeks for a serious comparsion of all gear. Most of the gear isn't burned-in yet.
Here are a couple of pics: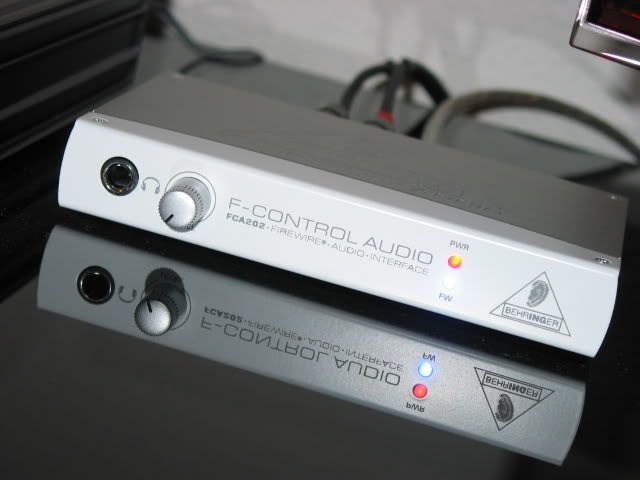 I didn't open the case and probably I won't open it soon. But I have found some information on the internet that FCA202 uses rather cheap components. I've found a head-fi thread and someone did mod the FCA202 already with better caps – unfortunately he has managed to damage it beyond repair while modding.
Presumably the modding potential is similiar to the UCA222, probably a lot of caps that can be replaced. I'll will post pictures if I do open the FCA202, but I don't think I'll do this in the next few days.
More feedback is highly appreciated if someone else gives the FCA202 a chance. I can't comment about Windows/Linux performance of this device.
BTW: While I was finishing this post, I've got a phone call from my boss. BAD NEWS: We have lost one of our biggest customers. More than 20 people will be fired in the next few months. As far as we know at the moment, this will have no consequences for me (I'll keep my job), but maybe we all can't work 100% in the next few months. We'll see. Shit happens.