Post by elysion on May 29, 2010 4:32:57 GMT
Maybe some of you have read my
thread
about the Native Instruments Audio 4 DJ DAC.
The NI A4DJ DAC was really nice regarding SQ (24-bit/96KHzk CirrusLogic based USB DAC), but its INSANE output-gain of about +10dBu almost killed my ears. It's simply to much gain for use with standard headphone amps. Of course you could use a mixing console or something other to limit the gain, but I think it's not intended to work so.
I'm searching for good USB or FireWire DAC for use with my various computers (I have lots of them) and the search is still not over. Although I want a very good DAC to get the most of my amps and headphones, I have also a need for cheaper but still usable USB DAC, this because I have so much computers. One DAC isn't enough at all.
For pasttime while I'm still searching for
THE
USB DAC, I bought a Behringer U-Control UCA222 USB DAC yesterday. It's not only a DAC, it's also an ADC. The UCA222 has RCA outputs and inputs and one toslink optical output. Additionaly it has also a mini-jack headphone monitoring output. Connection to the computer is only through USB 1.1 (no need for a USB 2.0 port) and almost every computer with USB is capable of using this interface (no additional drivers needed). The interface is rated to have 16-bit/48KHz output and is entirely USB bus-powered.
Installation on the Mac was very easy. Plug-the USB cable in and select the UCA222 as audio input and output device in System Preferences – that's it.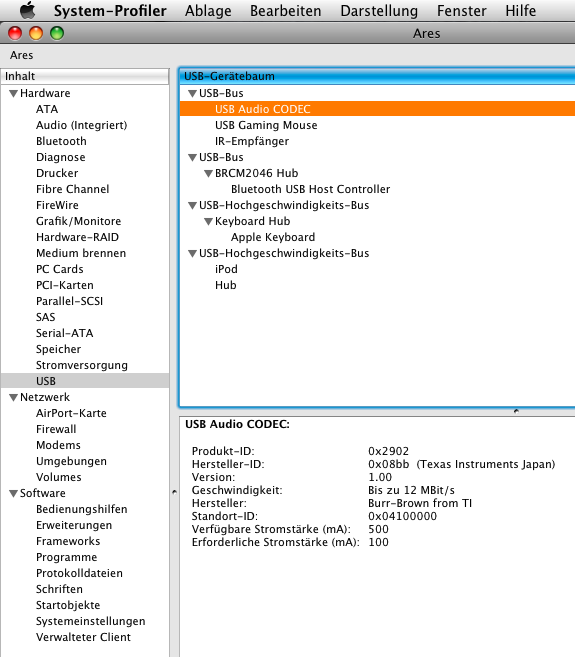 According to the SystemProfiler output the UCA222's use some Burr-Brown USB interface chips.
Im only using the RCA outputs and maybe I have also use for the RCA inputs sometime.
The UCA222 is brand new and had no burn-in and I have only listened a couple of hours to it. I used it as source for the Neco Mosfet V.2.
Initial impressions are quite good. Sound quality isn't high-end, but it's a real bang-for-the-buck. Never seen a cheaper USB DAC. I'm thinking of buying at least one additional UCA222 because I'm rather pleased with the output quality and because it's so cheap. I can easily use them for my bunch of computers even when I get a state-of-the-art DAC for my main computer.
Because they are so cheap and I'll getting at least one more soon, I can easily make some inside pictures of the UCA222. I'll wait until I've gotten the additional UCA222, but I don't think it's a problem to void warranty with one of them...

The case is made from two plastic parts that are fixed by two screws. I hope there are not also additional plastic snap-in's (I hate them).
I have found two videos about the UCA222 on YouTube:
www.youtube.com/watch?v=uhoHiM8zmvw&feature=youtube_gdata
www.youtube.com/watch?v=bgqmC7A6qC4&feature=related
The metallic-red plastic case looks a bit better in real than on pictures/moovies. But it still looks somewhat cheap... OK, it
IS
cheap...

I don't want to comment much about sound quality at the moment. For now the UCA222 has only very low hours on it and I don't have much other DACs around to compare with. I hope my DAC armory is growing in the next few months though.
I'm almost sure the sound quality is acceptable for use with most amps. The UCA222/Mosfet combo isn't bad at all and I'm listening with pleasure to it at the moment.
The output gain of the UCA222 is as far is I know on normal line-out levels, but I have the strong feeling that it has less power than the analog out of my Macs and for example the Yamaha TX-592RDS tuner that I'm using for the burn-in of headphones. It's not a bad feature, I have no problem with it. But you shouldn't expect a very powerful output. The log POT of my Neco Mosfet V.2 is a bit better usable than with other sources, but it's not a major difference beside the NI A4DJ DAC which has INSANE output gain.