Post by PinkFloyd on Jan 8, 2010 22:28:40 GMT
Well.... here they are folks..... the HD-681 "RedPhones"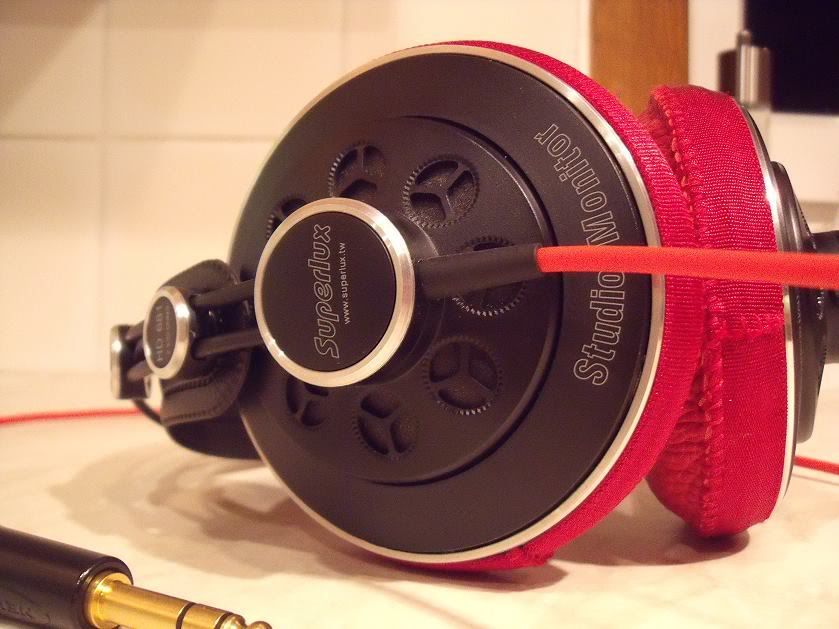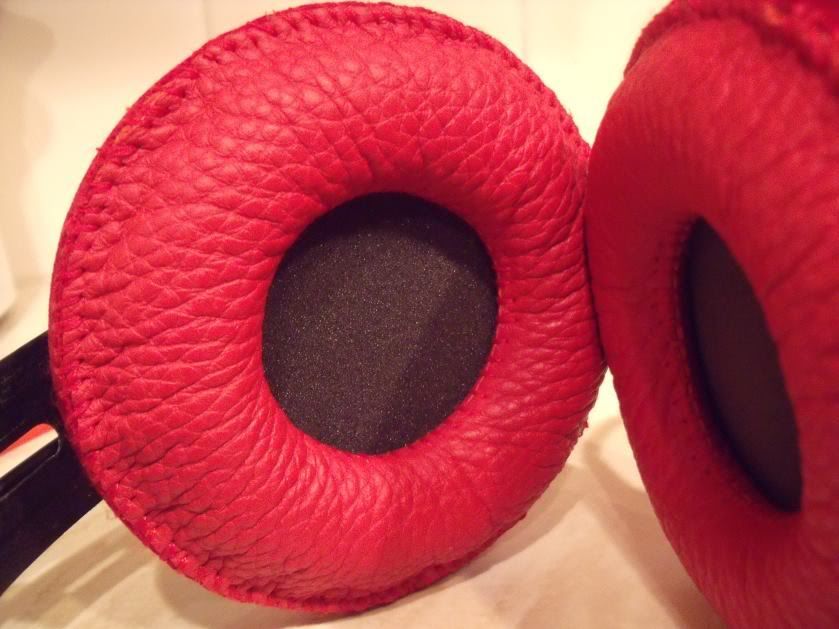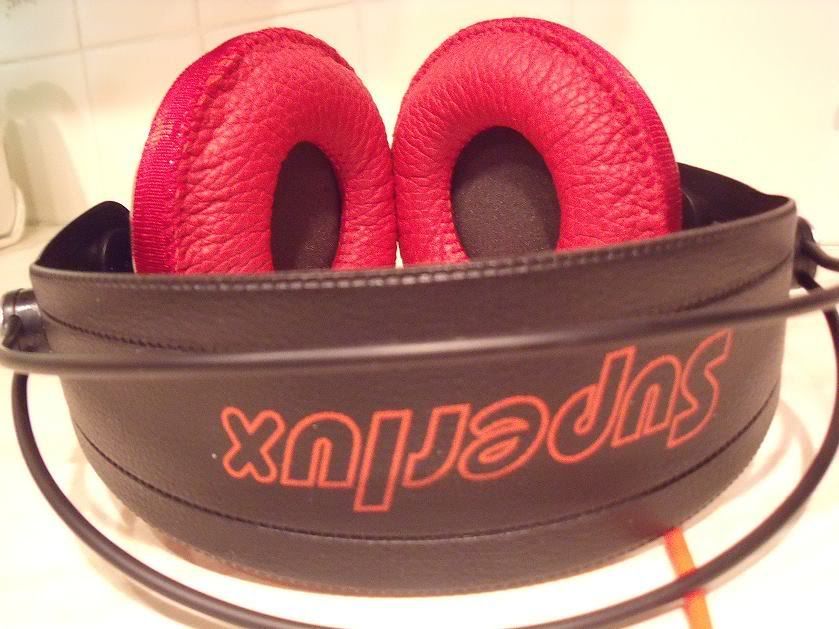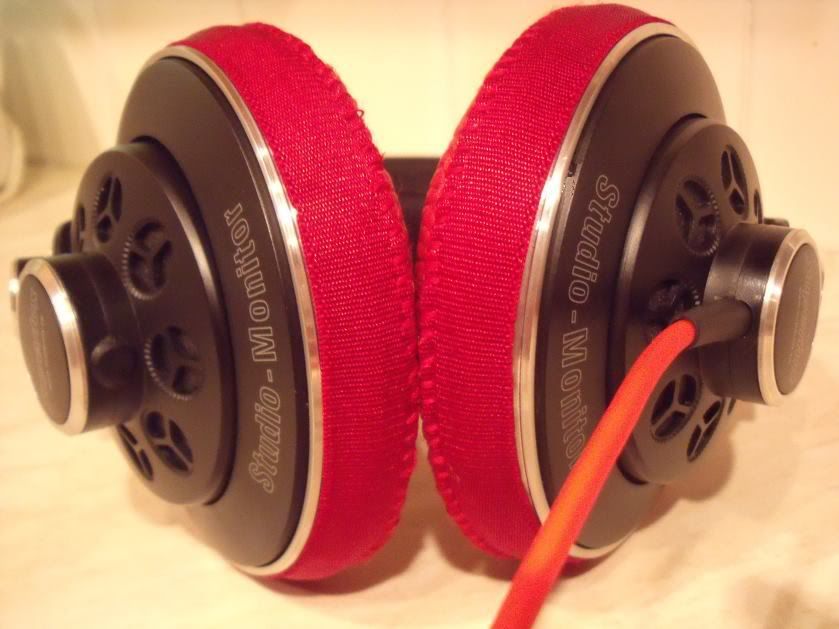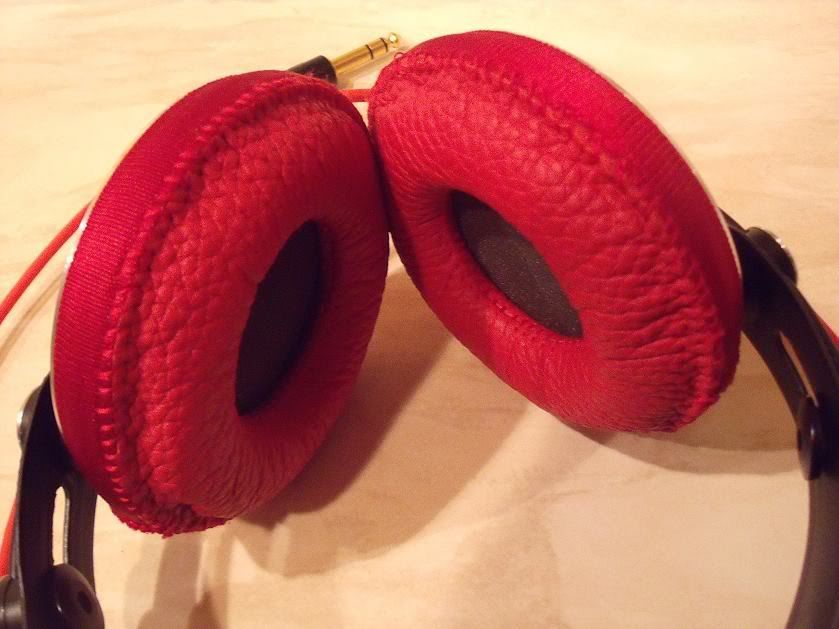 First off, anyone contemplating fitting these red leather pads, be sure NOT to fit the foam insert pads that come with them..... I did and, initially, thought the headphones had blown..... what a CRAP sound, it was like music piped into my ears via a baked bean can (yes, THAT bad!).... the pads are totally air proof (ie, they won't let sound through) and the only sound that does come through is via 6 small holes cut into the foam.... these insert pads
seriously
bugger the SQ up in a bad way and the original Superlux insert pads should remain in place.
The red leather looks very nice, the photos don't do it justice, it's more of a "salmon" red in reality and not a bright red as the photos suggest. The pads are not as soft as I expected and the centre hole is only 50mm (compared to 60mm on the original Superlux pads) so may not prove as comfortable as the stock pads if you have large ears..... I must admit, the leather pads are a lot "cooler" running on the ears but I feel, like all pads, they will require a period of "bed in" before giving that old glove like feel.... the leather is quite rough grained and the inner foam pretty firm, so don't think "soft and sumptuous"..... hard wearing, yes, and, like a pair of leather boots, will take some bedding in..... these are no soft leather moccasins......
The leather pads alter the presentation slightly, my first thoughts when I initially had a listen was "brighter" with "tighter" bass..... after a prolonged listen I would say they have made the sound slightly more "neutral", which is not a bad thing, and I can only put that down to the 10mm reduction in the hole size...... one thing's for sure, the HD-681 are VERY sensitive to change (be it fitting rings, changing the cable, or the pads) and you really are
aware
of any changes you make..... this is great news for tweakers but I'd imagine it would be very easy to over egg the pudding and end up with something totally alien to the original in SQ.....
I think, as I write, that I prefer the sound with the stock pads.... it just seemed to have more "balls" to it but, if my love of headphones has taught me anything over the years, it's never a good idea to "instantly" judge and always prudent to allow any changes a good week or two before passing final judgement. What may
appear
not to your liking today could well prove the opposite after a few weeks.
Actually, just after I wrote that last paragraph, I played one of my reference tracks "Junior B" by Yello and it's absolutely SPOT ON!..... the 'phones have only been on my ears tonight for 40 minutes and the pads were cold when I first put them on (-15C outside!)..... seems things are getting better the warmer they become (another factor I appreciate.... materials have a tendency to perform better / loosen up when they reach body temperature) Have you ever put a pair of leather gloves on in the freezing cold? Stiff as fck' but after an hour on your hands as supple as a nun's arse ;D
"Appearance" wise, I'm glad I went with the the red leather instead of the black leather pads.... it may look OTT in the photos but it isn't and is a welcome change from the obligatory "black"..... the 'phones actually look like they cost a serious amount of money (they "feel" it too, the leather pads are heavier than the stock pads and, in conjunction with the alu rings, add a bit of mass / weight to the proceedings) ..... A red leather (or any colour leather) headband
would
be nice and if there's any leather experts out there following this thread then please get your tools out and make a few

These 'phones are are a
STEAL
at the £18 entry price and for a few quid more can be transformed into good "looking" (as well as awesome sounding) 'phones too. If the SQ was shite to start with then you'd be spending money trying to make a silk purse out of a sow's ear (which is always a wasted exercise, you can polish a turd but it remains a turd) the fact that the stock 'phones are superb sounding (and just fine left as they are) is a license for the DIY tweaker to go mad and throw another £20 into them to make them look as good as they sound.
I will be trying Fran's filter mods at the weekend (offboard to start with) and will report back then.
Mike.