Post by PinkFloyd on Jul 26, 2009 22:07:29 GMT
Just received this today (ordered it last week from ebay) and
boy
does it look one VERY well put together amp

I was after a pretty reasonably priced headphone amp with built in USB DAC and the NG27 seemed to fit the bill at £50 GBP.
It will be a few days before I get round to hooking it up as I have just come out of hospital and supposed to be resting in bed but, in the meantime, I thought I'd have a look under the bonnet and take a few snaps.
First impressions when you open the box are "quality". The NG27 comes with USB connecting lead, 3.5 to 6.3mm headphone adaptor and a 12V switched mode PSU: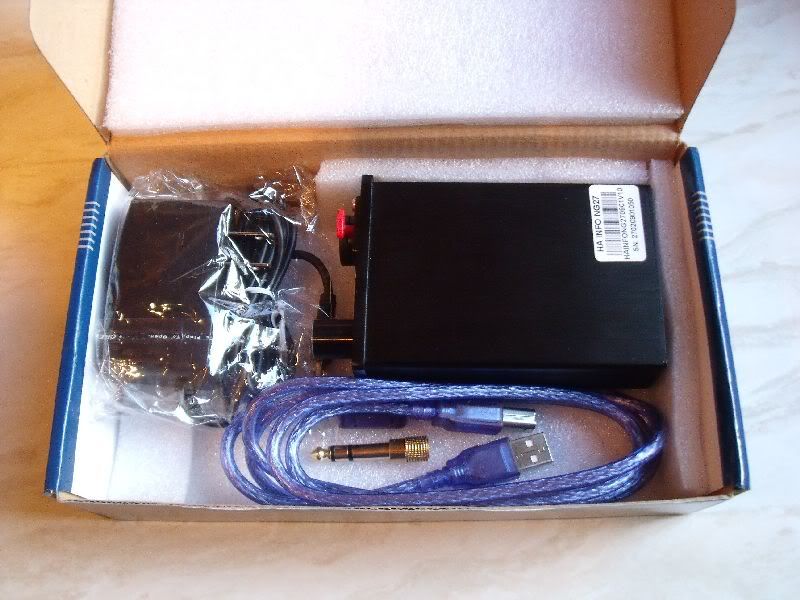 The PSU is a two pin type so no use for 3 pin mains plugs but I will be using one of my Little Pinkie V supplies to power this so not a problem. It will be a problem to anyone expecting to use the supplied PSU though (UK residents) I must make the seller aware of this.
The amp itself just reeks of quality and has been extremely well put together. The headphone socket is a high quality "locking" type and the internal components are pretty much the best you can get (Nichicon fine gold capacitors, BUF634, Oscon capacitors, Nichicon MUSE capacitors, EVOX film caps, Wima film caps, ALPS 50K potentiometer etc.) No expense has been spared on parts quality and for £50 GBP perceived value is nothing short of amazing.
The TDA2030 audio amplifier bolts onto the enclosure (using the enclosure as a heatsink) and even here no expense has been spared using proper TO220 mounting kit. DAC is the Burr Brown PCM 2702E. Opamp is the dual channel Burr Brown OPA2134 and buffers are Burr Brown BUF634.
As I say, build quality is fantastic.... both front and rear panels are bolted on with stainless steel bolts, the enclosure is extruded aluminium and the PCB top quality double sided.
In all, on looks alone, this appears to be one extremely nifty little tool.... I can't wait to fire her up and see what she sounds like.... of course, I will report back here as soon as she's up and running

It will be my first journey into "computer / USB DAC audio" and I'm looking forward to it.
In the meantime, here are the specs and a few under the bonnet pictures:
Size: 7.6cm x 3.1cm x 11cm (width x high x deep)
Input Interface: USB, AUX-in(3.5 stereo Jack)
USB INPUT: PC2001 USB-B (plug and play, Windows2000 or Higher)
Output Interface: 6.35 stereo headphones output.
HeadPhone-OUT: 4V RMS
DC Input: DC12V-16V, >1A/=1A ..
Power: We offer a Wall Mount DC Switch Power Supply Input: AC 100-240V 50/60Hz, Output: DC 12V 1A.
Suitable Headphone Impedance 32 ohm---120 ohm
Item Include: PCM2702 USB DAC Headphone Amp*1, USB cable *1, Power Supply *1 (100V-240V), 1/4" Stereo M to 3.5mm Stereo F Adapter*1.