Post by PinkFloyd on May 22, 2015 21:05:41 GMT
I've got a Heed CanAmp in at the moment for a general spruce up and thought I'd may as well share what I'm doing with it.
First off, I'd forgotten
just
how tight these amps are to work on..... you are very restricted by the lack of space on the board so what you
do
fit will always be a precision fit and it may be necessary to move some of the components to the underside of the PCB to make room for the larger capacitors.
This must be a later version of the CanAmp as the original had a 6VA transformer whereas this one comes with a 14VA transformer onboard which is far from "meaty" but more than enough to do the job.
Here is the stock amp: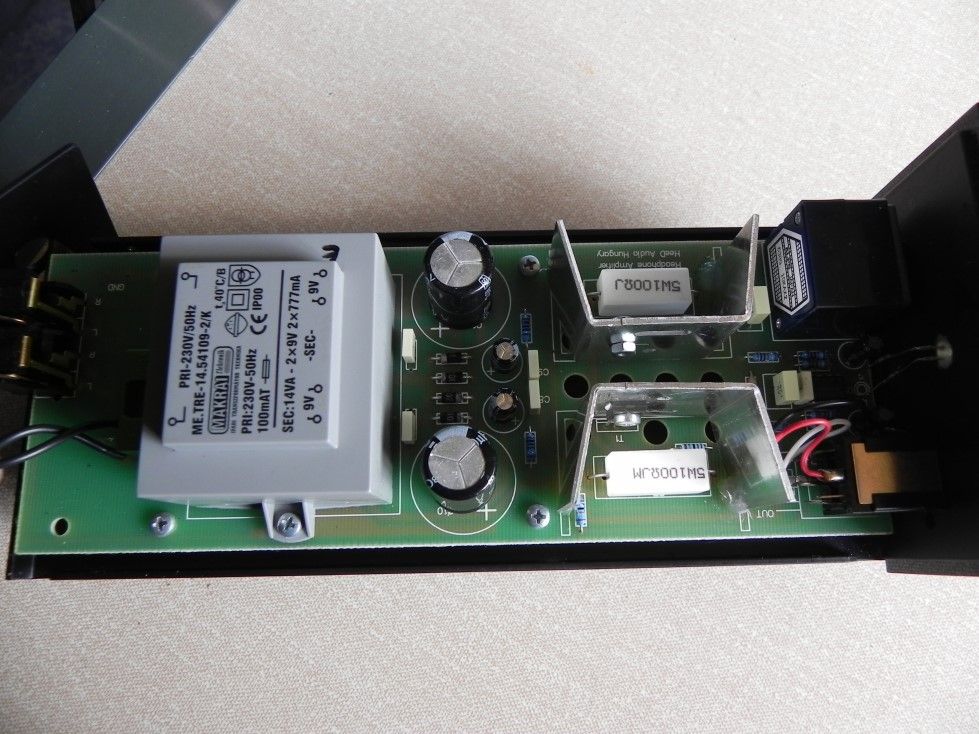 First thing I did was fit a DIP8 socket to facilitate easy opamp rolling, George (the owner) wants to try out a few different opamps so the DIP8 is absolutely essential as there is NO WAY you would want to strip the board out and desolder the opamp everytime you wanted to try another one.... the pads are so small and would lift if you so much as sneezed on them so I firmly recommend fitting a DIP8 if you are going to try a few opamps out.
Remember I said how tight a fit these amps are? The capacitors around the opamp area have to transferred to the underside of the PCB to allow adequate room to get the opamps in and out..... Heed should have done this as a matter of course as they are well aware that there are a lot of "tweakers" out there who like trying different opamps. It was also necessary to fit the two 10uF coupling caps under the PCB, I replaced the originals with Non Polar Nichicon MUSE types as they sound a
LOT
better than those horrendous Jamicon general purpose jobs that the bean counters insist on putting in amps.
Next up was the task of fitting a pair of non inductive power resistors. I chose the 12 watt Mills MRA12 non inductive resistors to replace the 5 watt ceramic resistors as this is one area where you really can reap sonic rewards. I think Heed fitted those 5 watt resistors for one reason and one reason alone....... they get roasting hot and what does a warm amp give the impression of? Class A! The Heed is certainly not Class A

A decent rated resistor such as the Mills runs totally cool and sounds superb thanks to it being non inductive. Rick was a great one for his non inductive resistors and I was hooked as soon as I tried them all those years ago. The Mills are not cheap (£6 each) but are certainly not expensive either and £12 is £12 well spent considering the sonic and cooling advantages they offer. The ceramic 5 watt resistors are ten "pence" each so you can understand why a manufacturer wanting to maximise profits would use them instead of using the best part for the job.
I have always been a belt and braces man so fitted a couple of heatsinks onto each of the mills but they are totally unnecessary as the Mills don't even break into a sweat! They are like two cool cucumbers with added ice packs..... superb quality resistors, fit for the job in hand.
www.hificollective.co.uk/components/mills.html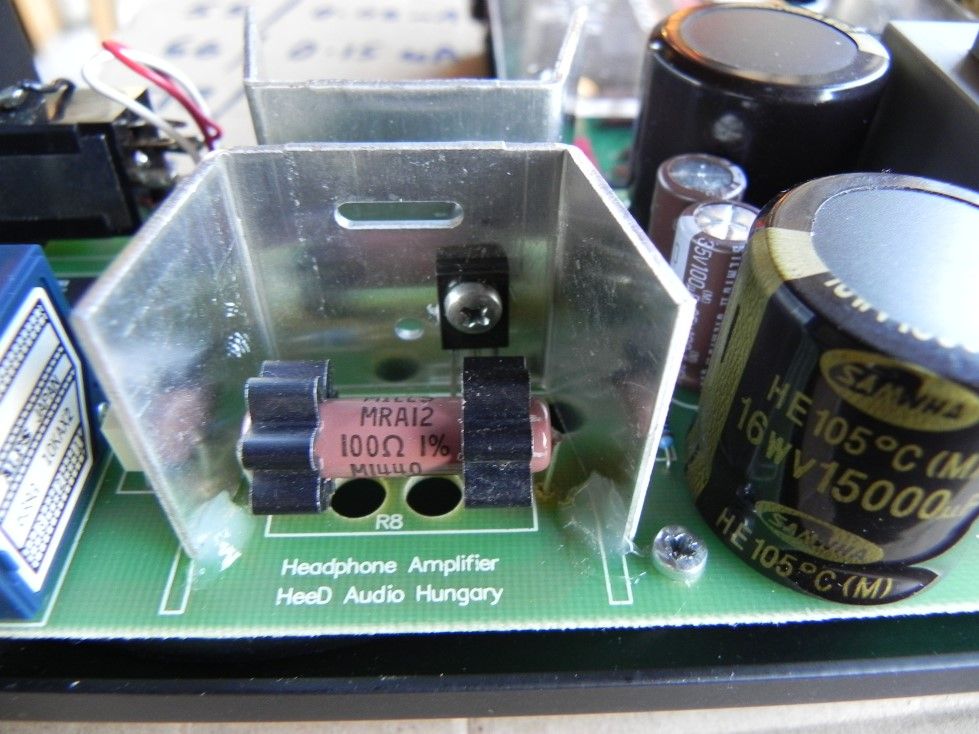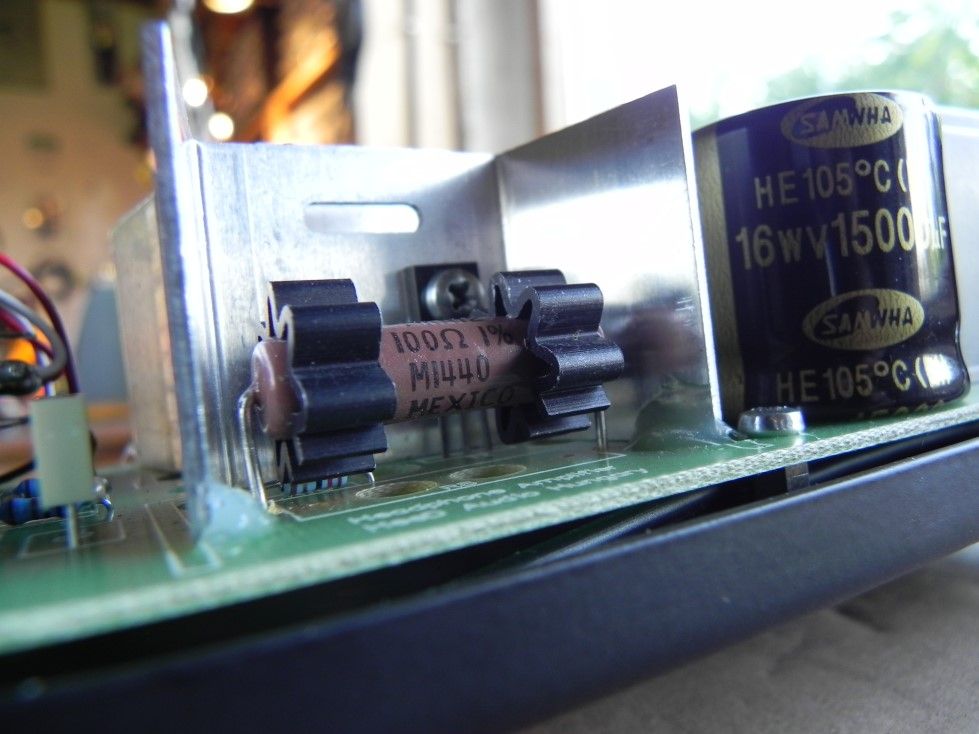 Next up was deciding what value of smoothing cap to use..... my favoured value with the 6VA transformer was 10,000uF (the stock value is 16V / 4700uF) but this amp has a 14VA transformer so I've decided to push the envelope even further and crank the smoothing caps up to 15,000uF (She cannae handle it Captain! I hear some of you cry)..... I had them in stock so thought I'd give then a try, they are absolutely
spot on
and take the grunt and balls of the CanAmp to a totally gruntier / ballsier dimension in sonic space...... absolutely firing on all four, no doubt about it! The Samwha HE caps are pretty good and to get 15,000uF in such a small package is ideal for the CanAmp where board estate is limited.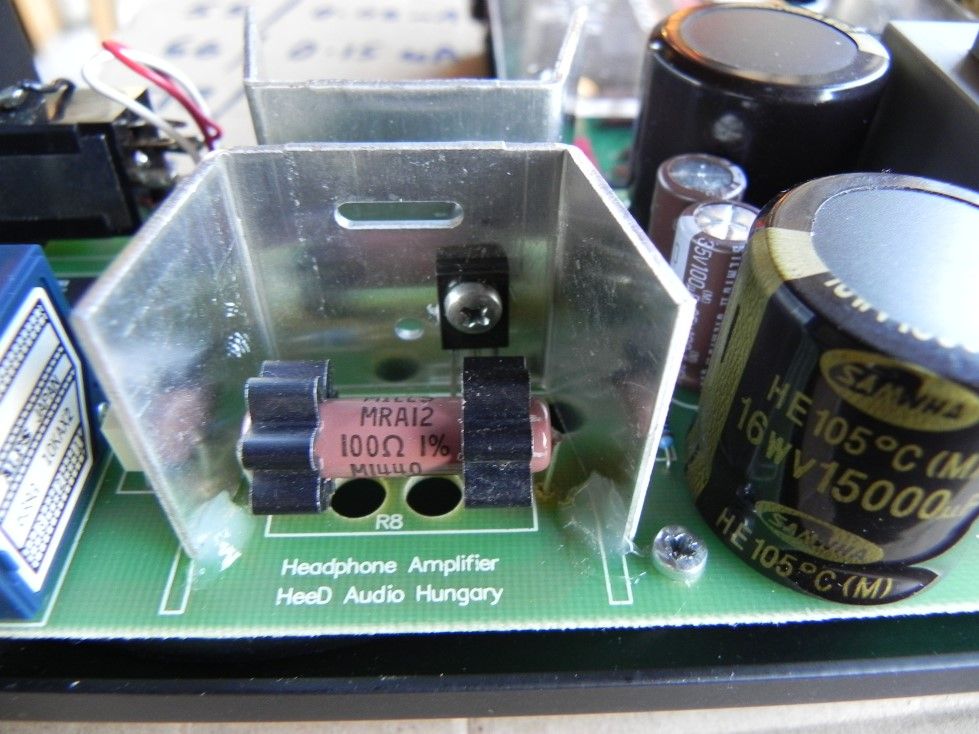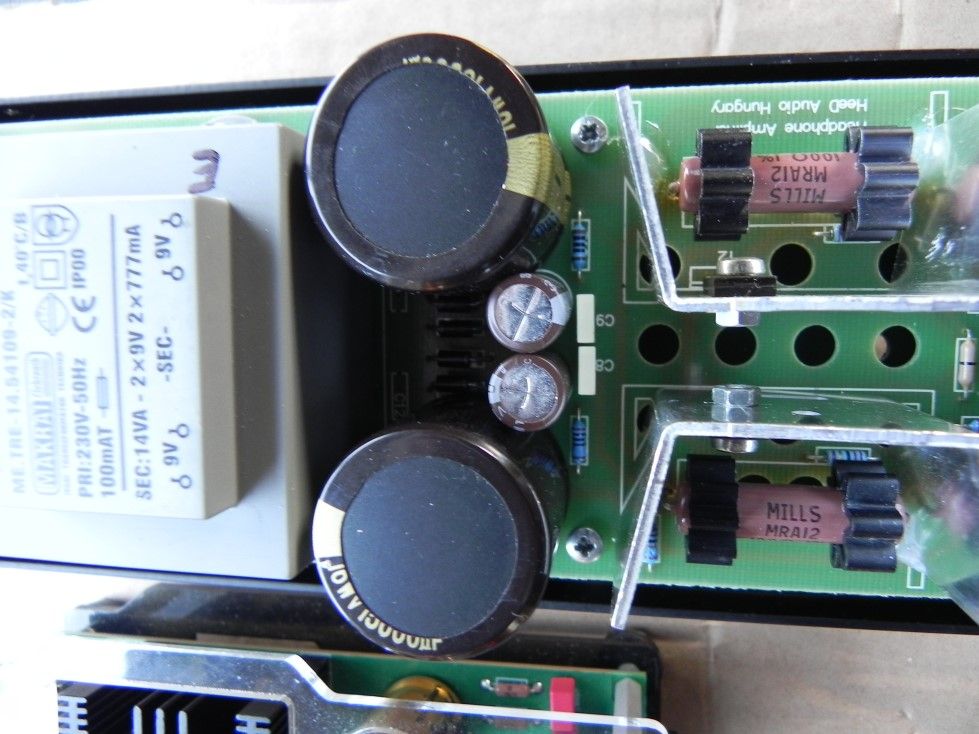 The two 100uF Jamicon caps were replaced by 35V / 100uF ELNA Silmic ll caps
www.elna.co.jp/en/capacitor/onkyou/silmic.html
I just wouldn't use another capacitor in this position. They were a tight fit (once again) but well worth the price of the shoe horn

........ they totally get rid of that bloody awful Jamicon "padded cell" veil and allow the music to blossom in a lovely organic way..... why oh why do these so called "high end" manufacturers employ these god awful, penny a pop, Jamicon capacitors into their equipment? <slaps self on face> to ensure they get as much money for as little outlay as possible stupid! </slaps self on face>. ELNA Silmic ll construction and materials explained:
www.elna.co.jp/en/capacitor/onkyou/silmic.html
I have also replaced the 1N4001 diodes with UF4004
ultrafast
diodes..... 50ns....... and am now deciding what opamp to fit into George's CanAmp. I was hoping to try an earth, moon or sun but they won't fit due to the tight fit (did I mention the tight fit?) so it will have to be a conventional opamp. The Audio GD opamps were a great sounding bunch of discrete opamps but I have yet to find one damned headphone amplifier that they will actually fit into!
www.audio-gd.com/Pro/diy/OPA/OPAEN.htm
anyhoo, no point dwelling on that.
I have every opamp on planet earth in stock and am going to roll in a good few duals (as well as singles on B-Dogs) into the CanAmp on Sunday and try to evaluate the best starting point for George / the "one size fits all for starters" type sonic signature. He's, generally, happy with the NE5532 signature so that would suggest his aural tastes may verge toward the Burr Brown camp so I have slotted in an OPA2227 for starters and it's sounding damned fine splendid (I had forgotten JUST how good this amp can sound)...... I'm thinking the best balance between Burr Brown "comfort" and AD "realism" may be the AD823.
I am thoroughly enjoying this and it's great to get my ear in once again..... I was looking back at some of my old posts and the opamp discussions were so passionate and exciting, those were really good times at this joint...... From the second I fitted that OPA2227 this afternoon I "knew" that I had to listen to every single opamp in my armoury to find the best one for the job in hand.
Oh, one more thing..... I also fitted a "yellow" class X2 suppression capacitor across the line. I drilled the board (0.5mm bit) and fitted it underneath the IEC socket.... it was "tight" (have I mentioned the tight fit yet?) but, as always, it's precision Pink tight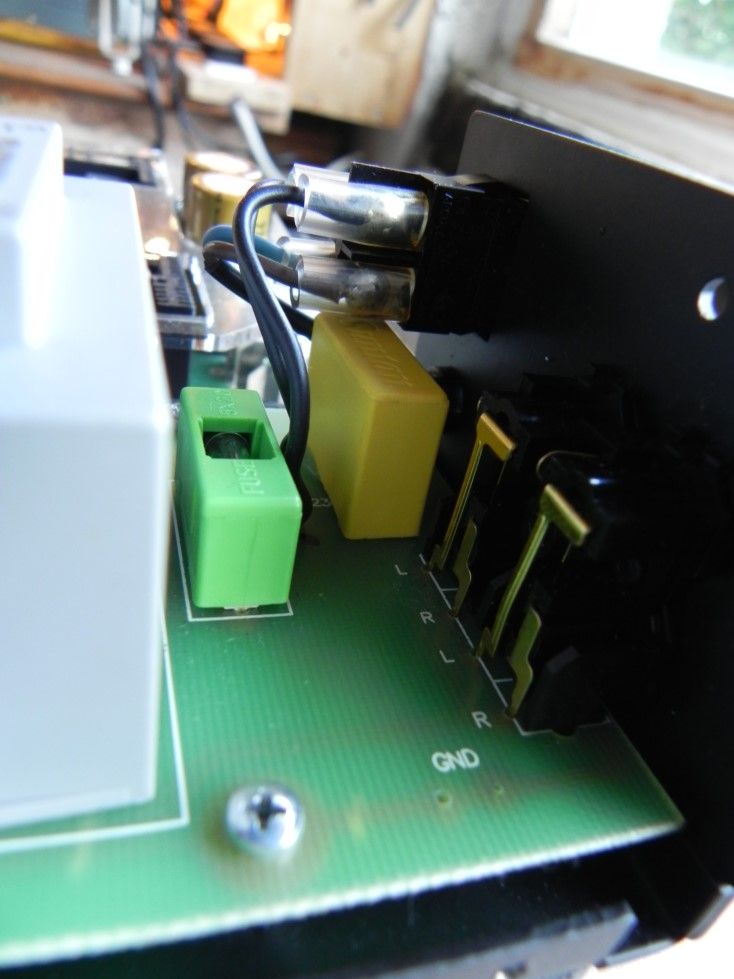 A few more pics: