Post by freddypipsqueek on May 26, 2017 13:25:44 GMT
A few years back I bought a Micromega Microdac – a DAC I had wanted as a kid and which I thne found worked well with my Chiarra. Recently it has lost its way and on finding the following website I decided to recap to see if that would bring it back to life -
www.flickr.com/photos/sshobby/sets/72157625914167116/
. There was nothing to loose.
The site summarized the changes as follows,
"An old, cute, Micromega Microdac. I found it after I sold the matching MicroDrive, which is a bummer. It sounded OK only, in contrast to the reviews it had received in the 90s, so I decided to see what modern parts could do to it. I upgraded the opamps to OPA604, the diodes to UF4007, the voltage regulators to low-drops out units, and the caps to Nichicon low ESR audio quality caps. The main caps were also bumped up to 2200uf from 1000uf, and they got bypass caps as well. What a difference - it sounds terrific."
I did all of the above except for changing the voltage regulators. I couldn;t easily work out was a good replecement would be.
I got in a mess with the caps – the 2200uf were bigger and needed to be bent over. The 47uf jobbys were too big so i added some extra 22up to the originals (underneath) and didn't fit the 47uf ones. The biggest change (I think) was the new diodes replacing the original rectifiers – I'm not sure about this though. When I added new fast recovery diodes to my Cyrus amp I notcied they help as well with the speed and attack.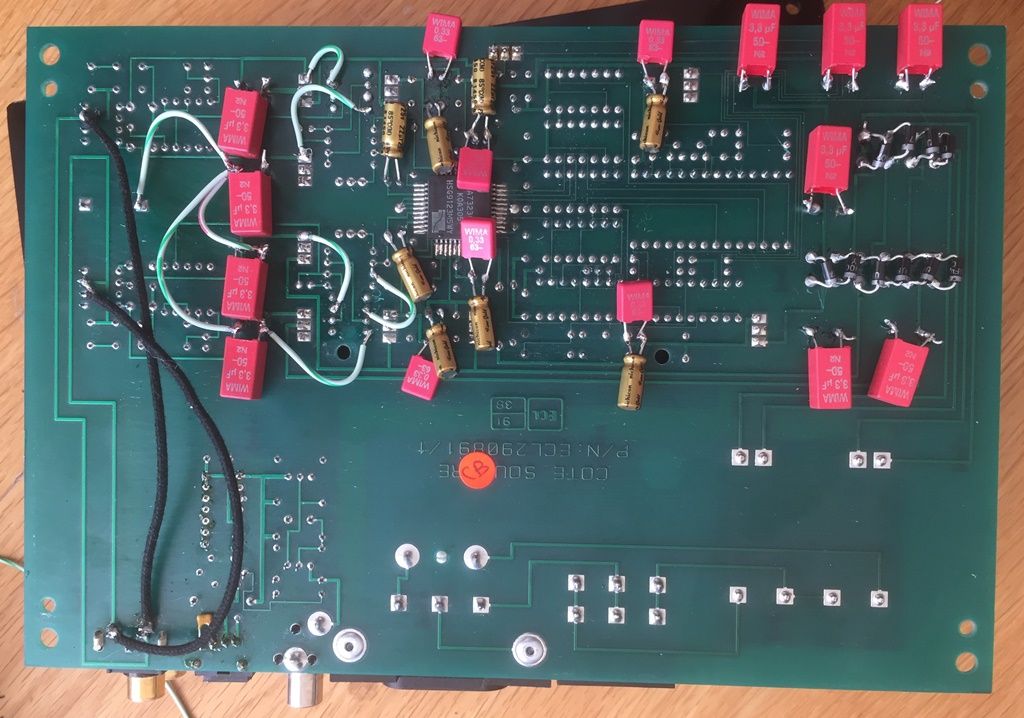 Finally I did upgrade the op amps from the original TL071CP to the OPA604 and found it much better. I have however now added some Burson solid state jobbies – the red things – and I'm waiting to see how these burn in. I mention this because of the Orange op amp thread currently on the go. If the Bursons don't match well I will go back to the OPA604 which are much more of a cost effectively given the value of the DAC (they seem to worth about 80 or 90 quid). My understanding is that the Orange units are only available as doubles and I already had these single ones.
I would never have tried all of this 2 or 3 years ago. Much is down to the reading what people have done on this site and getting confident - my thanks to all for that.