Post by freddypipsqueek on Dec 15, 2016 22:56:16 GMT
I'm posting this in case it is of interest to anybody. I appreciate entirely that it may not be and that my opinion and experience may not be the same as others.
I've tried to post in the Computer Audio section but it loops on the login page.
A while ago I picked up on eBay (£50) a version 2 Paul Pang USB card -
ppaproduct.blogspot.co.uk/2013/07/audio-grade-usb-30-pcie-card.html
.
I put this in my working computer which I use (a bit) for work and a game of chess or two and internet surfing and DVD watching. The installs are XP & W10. The card worked very well and I would recommend it to those thinking about such things particularly on 'dirty' PCs. It needs a standalone 5v PSU (an Aqvox in my case) so costs can mount (say £100) and I was using it with a non-async USB/Spdif converter so I think it helped more that modern DACs with XMOS (async) interfaces.
It got me thinking.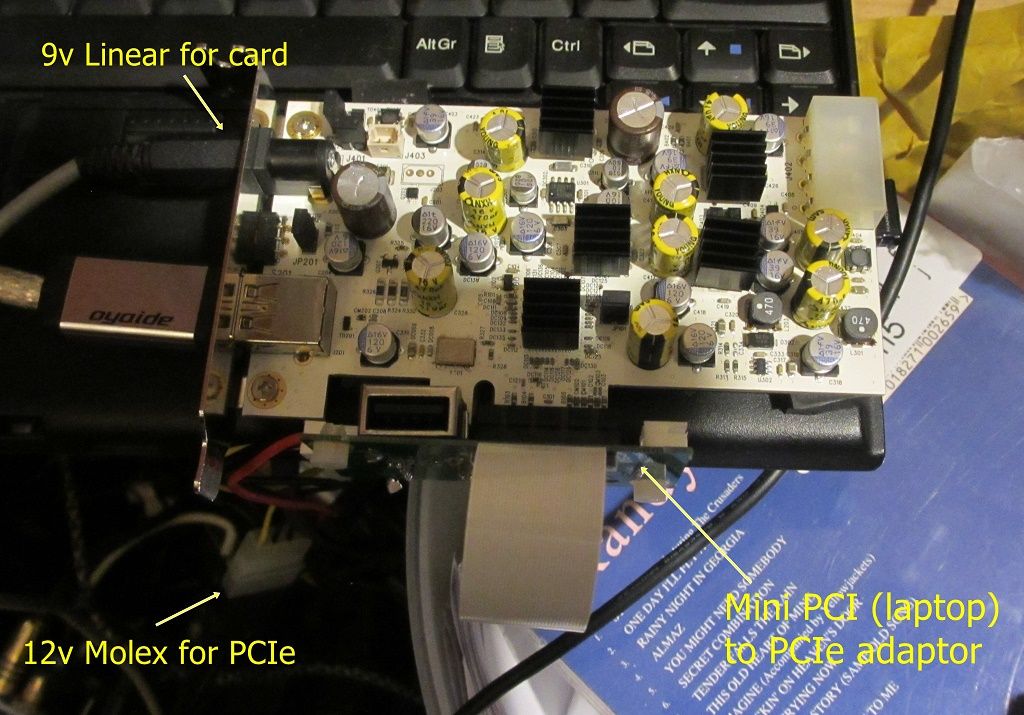 I then picked up an SOTM PCI-e card -
www.highend-audiopc.com/shop/en/usb-cards/sotm-tx-usbexp
.
Paid £90 for it so not cheap – who would pay the new price of £250 !!!.
As per the photo below I have fitted it into – or onto - the (trusty) X60 IBM laptop. A PCI-mini and PCI-e adaptor was required (£20) and a decent 9v PSU (a spare Theta Goliath so no cost there).
Two things are worth noting.
There was a small but noticeable improvement in sound quality. The bass was improved and everything was more musical. I would question however whether the card made enough of a difference to put up with the Heath Robinson arrangement; I will keep it but I remain impressed with the standard USB output.
The second thing was reinstalling the CAD & Fidelizer software. Both made a big difference – particularly the CAD batch files -
www.computeraudiodesign.com/computer-setup/
. I would strongly recommend anybody buy a cheap laptop, install windows 7 or 8 (the CAD W8 file runs on 7) use the CAD batch file, Fidelizer (6.14) and Foobar. All are free and a cheap laptop will cost £40 or so.
I have a Trichord clocked Sony CDP227ES and Roksan Candy with Tentlabs clock and PSUs etc coming out its arse and they are not a patch on a well setup cheap laptop running the above.
I cannot recommend the x60 enough – for £40 (second hand) you get the build quality of a £2k laptop. Easy to put a Sata DD drive in and run it off the battery it you want to mess – or in my case a £20 32GB Class 10 SD provides a low demand music source.